3D printed arms for learning to swim and ride a bike
Madrid
Updated:
Keep

Little Jonay (11 years old) suffers from agenesis, so his left arm ends above the elbow. Gloria, his mother, says that he ended up rejecting a conventional prosthesis because "it was very heavy and for him it was impractical." About three years ago, her therapist told her about SuperGiz, a charity project that 3D print accessories to help children without upper extremities perform everyday activities such as biking, swimming, or, in Jonay's case, playing cards. "My son has a very integrated disability and wanted something colorful and fun, like a superhero," recalls Gloria on the occasion of the Day of People with Different Limbs celebrated this Monday.
Autofabricantes, Héroes 3D and the Rafa Can Foundation, promoters of SuperGiz, have been conducting workshops for five years in which children participate, together with engineers and therapists, in the design of their own prostheses. Each one is made to the taste and measure of its future user and is produced in a few hours. "In Spain, Social Security offers several types of prostheses. Our SuperGiz 'octopuses', based on open source designs available on the internet and retouched according to the needs of each child, are complementary. We have made accessories for playing guitar, climbing, picking up a paddle, making a ponytail or simpler things like picking up a spoon ", explains Antonio Maeso, founder of 3D Héroes, who as a result of this project began to study orthotics.
"The workshops were very rewarding, children came from all over Spain who on many occasions had never seen others with the same disability. That on an emotional level helps them a lot too. I always tell the story of Sara, who when she got to the pool she hid her hand and thanks to the swimming paddle we made with 3D she ended up showing it, "recalls Maeso. They had their last meeting before the pandemic, when they began using their 3D printers to create protective screens for toilets.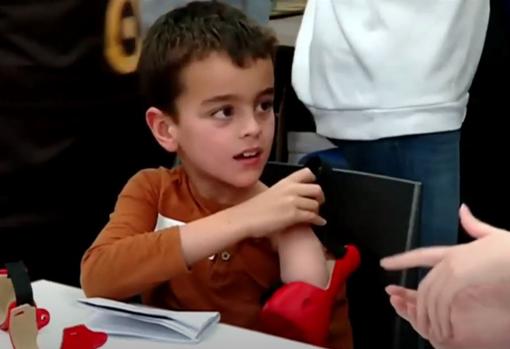 In more than 50 countries
Guillermo Martínez, an industrial engineer, also immediately saw the solidarity potential of his printer and created Help me 3D, an NGO that donates about 200 articulated arms ('trésdesis') a year in 50 countries. 15% of their designs are delivered in Spain. "We started in 2017 in Kenya, with designs from the internet, but now all our arms are self-designed and personalized. We try to make them more natural, with nails, knuckles …, because the psychological impact is important. Anyone can order them for free and we remake them when the kids grow up», He says. What they do not do, in principle, are lower extremities, since it is more difficult for the plastic to be strong enough to support the weight of the body.
Victor, Richard Benjamins' teenage son, has one of these 'trésdesis'. «His left hand has been missing since he was born, but he leads a normal life without a prosthesis. I met Guillermo at a talk about technology for social good and he offered to do a 'trésdesis' for Victor. In his case, the 3D arm does not add much value to him because he handles himself very well, for example it helps him to take two glasses at the same time, for example. But these accessories they can make a difference in developing countries», Benjamins points out.
The cost of a conventional prosthesis can exceed 20,000 euros, compared to 900 euros for a SuperGiz, for example. At the moment, Maeso regrets, this type of 'gadgets' are "illegal", the responsibility to use them depends on the user, because there is no legislation that regulates 3D prostheses. Many orthopedists, according to Gloria, are not enthusiastic about these solutions: "For me, as a mother, the ideal would be for the two to mix, the lightness of plastic with the precision of a prosthesis ".
See them
comments