Updated:
Keep

We no longer want firm criteria imposed on us every season. We support the diversity, ecology and free will: that each one chooses what suits him best and what suits his lifestyle at all times. That said, societies inevitably create for centuries new codes with which to decipher who is in the garlic and who is not, who is updated or travels and who stays in the monastery on the mountain 365 days a year, something that on the other hand we find commendable and even very appealing. This pandemic has accelerated a series of changes previously unthinkable that we recapitulate with a summary of the Madrid fashion week that has just ended.
Hordes of the public, specialized journalists, photographers and clients have filled enthusiastically the spaces, halls and catwalks where they have paraded in this return to physical presentations in Madrid. The human being needs personal contact and the happiness that reigns in all the presentations has only soured with some bad gesture and some disregard, common in a country where envy reigns and in a world where mediocrity reigns. The return to the frenetic rhythm of the collections It has been stimulating and the brands participating in the Madrid fashion shows have made a special effort to make everything look good.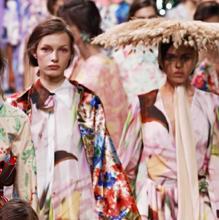 Those who subjected us in the past to loud decibel "thumps" that should be fined, showing ripped clothes on tattooed models with tongue piercings, have decided this time to present more wearable outfits of a calmer and more respectful way with the eardrums of others. Those who showed the same repertoire every year have made an effort to vary and those with gloomy and unclassifiable proposals have approached the feasible, the palatable.
We must not accept that norms and trends are dictated for their own sake some style bureau lost in Paris or Copenhagene, whose mission is to sell all the big fashion houses the same predictive dossier of invented trends. We want reality to prevail, the public that so many centuries has commanded: the world and today modify our behavior, our needs and priorities. And now that Covid-19 has turned our lives upside down, we have discovered the advantages of eating on a terrace whenever possible, of going to our appointments on foot wearing more comfortable footwear, of using natural fabrics such as cotton and wool. , to resort to wedge espadrilles at a garden wedding or to choose bags that are light, practical and ecological.
Another factor that many brands had forgotten is that we like to choose and admire fashion in special environments, cared or at least with character, because beauty is sought in everything that surrounds us. Jorge Vázquez's 20th anniversary show had an excellent staging at the renovated Ritz Mandarin Oriental in Madrid, with an impeccable breakfast included, a good backdrop for a delicious and French-style collection.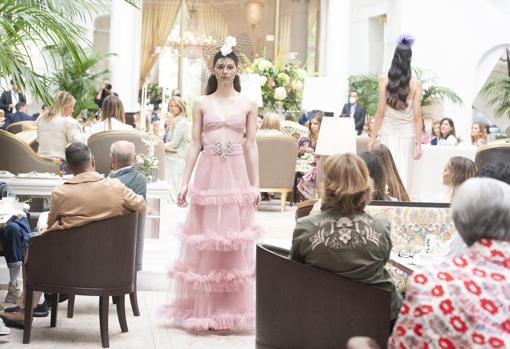 The brands that support the shows often offer attendees gifts that are not adapted to the situation; I remember getting more than a kilo packets of coffee, infumables, 50 cent Chinese gadgets, or musty smelling facial toners. Important and well-funded collaborations that support creators should be promoted, such as this year's MO, with a capsule of glasses created by Teresa Helbig that the press received before the show.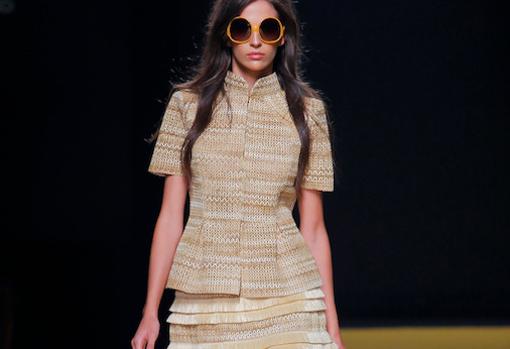 Now feasible collections are required, although it is understood that some garments are simply symbolic and are designed for the parade. Juan Duyos has learned this well, providing wearable and flattering pieces to his loyal clients, who years ago only found strange creations with an anodyne cut in his showroom. Duyos, like Jorge Vázquez, embroiders the combination of accessories and dresses.
Craftsmanship has finally been valued again and it would be mandatory to recover the textile and sewing guilds so that many centuries-old techniques survive in Spain. An example of the recovery of these métiers was the Isabel Sanchiz parade, a Valencian brand that is making its way in Spain when it has already opened abroad.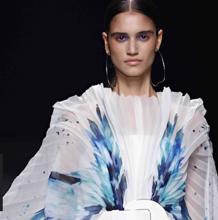 Sanchiz took up a very complicated double pleat in dresses that were reminiscent of the forms of nature: flowers, plants and dragonflies. She alternated the quilted effect lamé with the double tulle garments, wore magnificent dresses in laser-cut leaf shapes with hand-finished edges with 3D painting, and brought back flattering silhouettes from the past.
And freshness has returned to reality with pieces suitable for all ages and physiques. Custo paired with black blazers many of its impressive tops, some useful both for an event outside the office and for a night party; brought to the fore the loose bloomer cut shorts for the youngest girls and the wide-hem jeans that the more 70s style likes so much.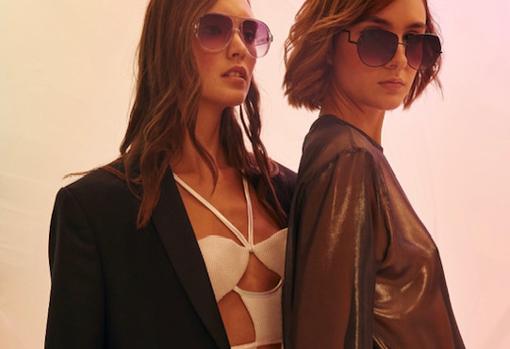 Variety, quality, solidity, craftsmanship, classic pieces Combined with garments in technical and ecological materials, flattering models adapted to all tastes and needs: this is the plural fashion that prevails, the one that is decided on the street and responds to the new needs of a client who has full wardrobes and only you decide on garments and accessories that they bring you.
See them
comments