Being born underweight increases the risk of cardiovascular problems as an adult
Madrid
Updated:
Keep

Being born underweight seems to increase the risk of cardiovascular problems in adulthood. According to a study published in "JAMA Cardiology", children born with low birth weight are up to three times more likely to suffer a myocardial infarction with a higher risk of hypertension, stroke, diabetes and metabolic syndrome.
Until now the cause was unknown and it was considered that they could be higher rates of diabetes and obesity.
Eduard Gratacós, BCNatal director, (Hospital Clinic and Hospital Sant Joan de Deu) explains, that in previous works it has been seen that an important part of the problem is the heart itself. "We saw that the hearts of children born with low birth weight have differences in function and structure, and that these differences that appear in fetal life were maintained until adolescence."
In this work they have found out if the changes in the structure and function of the heart are maintained in adulthood. "It is a pioneering study, which combines highly sophisticated computerized analysis techniques to analyze the shape of the heart with magnetic resonance imaging with a stress test," explains Marta Sitges, director of the Clinical Cardiovascular Institute, and co-author of the study.
People between 20 and 40 years old who had been born with low weight and with normal weight were located. To do this, the records of the delivery room of the Hospital de San Joan de Deu from 20-40 years ago were reviewed. From the date of birth and the mother's last name, some of them were contacted, and they were asked to participate in the study.
In total, they participated 158 adults, 81 were born with low weight and 77 with normal weight. They underwent a cardiac MRI and a bicycle stress test.
"The cardiac MRI showed that people who were born with low birth weight maintained changes in the structure of the heart in adulthood. His right ventricle had a different shapeCrispi explains.
It was also seen that they have a lower capacity to exercise, that is, they are not able to generate as much force with the bicycle and they tire earlier. "This does not mean that they cannot exercise, but on the contrary," Crispi clarifies. "They may simply not have as much capacity as the rest of the population and get tired sooner."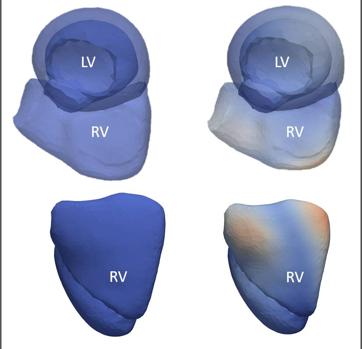 Likewise, it was observed that the changes in the heart are more marked in the smoker, overweight or sedentary population.
For Gratacós, «the research once again shows the importance of fetal medicine in the prevention of pathologies in adults. If we identify fetal growth problems in pregnancy and promote healthy habits from infancy, we will avoid the consequences that fetal problems can lead to in adulthood ", he concludes.
See them
comments