Children "wired" by unnamed digestive diseases
Madrid
Updated:
Keep

Natalia has spent seven of her 10 years in and out of the hospital. Since he came into the world with his twin, Silvia, he has undergone seven heart surgeries. To this day he still has no diagnosis. His illness has no name. We know the consequence, intestinal failure, and the disability it generates, which prevents you from eating and drinking through your mouth, so you have to be 16 hours connected to the machine», Says Sara, his mother. In their situation, for many children the solution is a transplant, although Natalia would be in doubt as a candidate due to her heart disease.
«This has been added to our life, and we are in that, helping it. We try to have a life as normal as possible. She carries a backpack with her machine and tries to make her life, play … Although when she wants to enjoy herself, she always looks for her friends here, "he adds. Refers to your companions Nupa, an NGO that helps, since 2006, children, adults and families with intestinal failure, multivisceral transplantation and parenteral (intravenous) nutrition. Before the Covid, the floor that inaugurated this association two years ago Pedro Rico Street was abuzz with parents and "wired children." Now, like everyone else, they look a little less.
There is no lack of joy for children like Melissa, an 8-year-old from Valencia, who the first thing she wants to show about this residence, her house in Madrid, is the toy room. After introducing all the Nupa dolls – with a mask, of course, since all these immunosuppressed children wore them before the Covid– and choose which one she wants to go out with in the photo, she counts the dishes in the little kitchen that she has brought. And he even offers us a snack. «She feeds by mouth, although in some stages she does better than others. Now he has lost weight and we are going back to the tube. She also has many intolerances, you have to measure what you eat a lot, you have to drink a lot of fluids, serum when it is not connected to the dropper … But Melissa is very responsible, when they offer her something she always asks what she has. These children grow very strong and mature», Explains Andrea, her mother, while the little girl comes to ask if she can eat a Maria cookie that she has taken from the kitchen on the floor. He knows the house well. He gains confidence and completes the tour by showing the drawings that are in the therapy room and the miniature gym on the floor, surrounded by the private rooms of each family. Andrea, her mother, what she misses the most is her little boy. «We miss a lot of things, but we will continue to go where we need to», He emphasizes.
As the University Hospital of La Paz is a reference in these pediatric digestive diseases, children from all over Spain are treated in Madrid. At the residence, Nupa welcomes families so much that they scroll through reviews -u simple operations like the one Melissa has experienced this week- as with parents who have children hospitalized in the ICU and parents taking turns to take care of your children while they are in the plant. "I was a journalist, and when I discovered this disease I saw that there were parents spending all their savings or sleeping in cars to be close to their children in their long income," says Alba R. Santos, general director of the NGO, who changed the corridors of the Congress by the kitchen of the association. Literally, because at the beginning she herself helped the families even to do the shopping. «Although children are very well cared for on a medical level, I saw that a leg was missing on a social level. In these cases, the expenses multiply, but emotional needs also arise that can only be solved by the experience of other parents. Here you have the residence at your disposal at no cost and they get to know each other, share experiences ", Santos points out.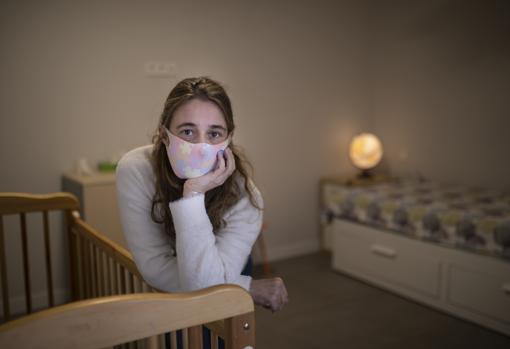 «Thinking that you are unique generates a lot of uncertainty. Seeing that there are children like Natalia, who have a better quality of life with their transplant, reassures you. and we have achieved that here. When you are a mother and you have this situation, there are many people who walk away because they do not understand it, are afraid or do not know how to react, but to the families that go through the same thing, you do not have to explain the fear that something gives you, they already know it », Asks Sara.
Teen challenges
In the case of Natalia, who is beginning to get older, psychological therapies and treatments are essential. «Natalia has a twin, and in her she sees a life that could be her own and is not. Then the psychologist helps you to fit in all those differences. Although Natalia gives us lessons every day on how to carry this, asks questions and is difficult to manage. She also can barely eat by mouth, but with the therapist we work everyday things like brushing our teeth, "says Sara.
In his case, in addition, the twins have three more brothers. «The oldest was 3 years old when Natalia and Silvia were born, so neither has a memory of a life without everything that Natalia entails. Now that they reach adolescence, they ask adult questions that must be answered in appropriate language. We must talk about this disease and not lie, because we do not know what will happen. We don't even think about it, "he says.
When leaving the residence, the visitor is dismissed by a dozen portraits of children in black and white. Some are already Nupa adults with normal lives after transplantation. Others are no longer with us. «Years ago someone who could not eat and drink died, but thanks to the work of experts today they have a better quality of life. Our children are never cured, neighbors depend on an organ donor, which is like finding a needle in a haystack. And yet it happens many times », recalls the director.
Sign up for newsletter de Familia and receive our best news in your email every week for free
See them
comments