Updated:
Keep

Designers, models and new collections full of color and vitality have starred in the second day of the MBFWMadrid held this Friday with new proposals for spring / summer 2022, which undoubtedly augurs a new summer of optimism and hope in what is already a 'new normal'.
Between pretensions and forecasts, Madrid continues with its Fashion Week, the third that it celebrates in a pandemic, positioning itself in favor of the catwalk in physical format and with new digital formats already incorporated. Yes, with strict security measures with temperature measurements, capacity control (reduced to 42%), and masks, which also welcome the general public for the first time in a pandemic.
Dolores Cortes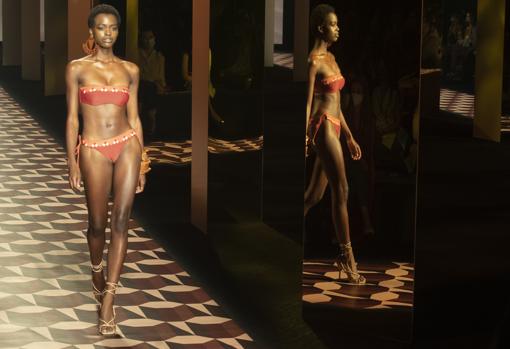 Dolores Cortes has been in charge of opening this second day at Ifema with a bathroom collection that takes as a reference the exhibition of the decorative arts of 1925 Paris, which became the starting point of the Art deco and later in a mass phenomenon. All of this is transferred to the collection by asymmetric silhouettes and enveloping details that evoke exotic travels, enhancing a renewed interest in crafts through wooden beads and decorated strips for a couture bathroom look. In terms of color, the collection has evolved from the terracotta and pinkish colors to a palette of saffron, orange and strong blues to evoke the images of the sunset.
All with prints and graphics organic that are articulated with primitive geometric structures simulating manual techniques, such as xylography.
Hannibal Laguna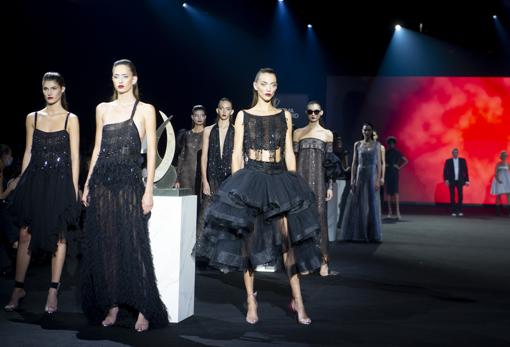 Hannibal Laguna looks firmly to the future with its collection 'Cosmology', immersing the attending public in the universe of the cosmos and betting on the artisan tradition in techniques and embroidery of Haute Couture so characteristic of the House. a bicolor parade between black and silver, in which many transparencies, puffed sleeves and glitter have been seen and in which the choice of color has been a tribute to the innumerable and mysterious shades of black that masterfully orbit the universe. Sheer and sumptuous fabrics ornaments that evoke the brilliance of the hypnotic constellations in sculptural dresses and creations that share the veins of their colors and the movement of their silhouettes with the sculptures installed along the catwalk.
Roberto Torretta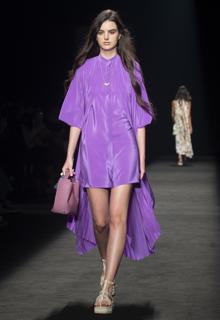 And with renewed purposes comes Roberto Torretta, with a fashion collection "More respectful, modern and connected with nature, cities and new technologies". An optimism unleashed in spontaneous dresses, with cheerful patterns and floral prints or in plain bud yellow, dilute blue with a soft hand, crepe and a mouliné effect. While for the night, dress a modern, elegant woman, with crepe, metallic, 3D fabrics and luxury tailoring for which she uses noble threads such as linen and silk, worked with advanced and sustainable techniques.
The accessories, brand of the house and the leather, conclude the description of the urban nature of Torretta for the spring / summer 2022 collection.
Lola Casademunt by Maite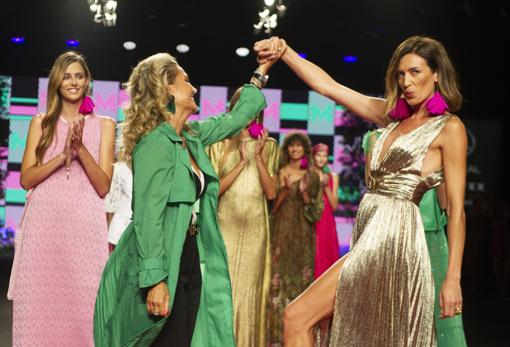 A nature that is also very present in the Lola Casademunt by Maite collection, in this case inspired by the Renaissance gardens of Versailles with a spectacular Nieves Álvarez among its models and with flowing fabrics in very feminine dresses that coexist with other technical fabrics and with the 'eco-leather' that becomes essential in this collection.
All this with extra-long, spacious and comfortable volumes, in a palette of bright and vivid colors – typical of flowers and gardens – to complete a daring, natural and energetic collection.
Pertegaz
Also in the afternoon shift and with Jorge Vázquez as creative director, Pertegaz returns to Ifema with a trip to the desert in the sixties. "A 'revival' of the freest and most colorful decade of Manuel Pertegaz where comfort reigns, ethnic prints, elongated silhouettes, tailoring and easy but very original garments", they explain from the brand.
Teresa Helbig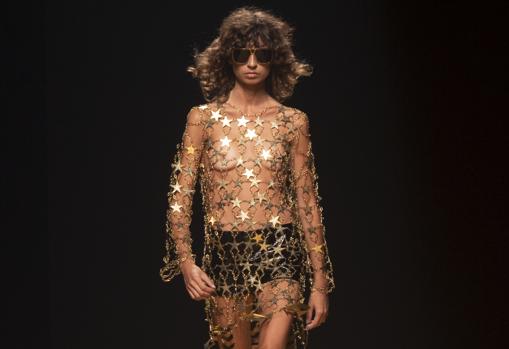 And with the celebration of its 25th anniversary in the world of fashion, Teresa Helbig closed the day with 'Once Upon in Los Angeles', a collection full of glamor, excess and fantasy in homage to the great Hollywood muses who inspired her since she was little. Models with seventies airs and wearing sunglasses as a result of their new collection with MÓ Multiópticas, an accessory that, as the designer herself explains, "gives another dimension to the look" and if there is something the designer has made clear throughout her career, it is that there is nothing that can resist her.
See them
comments