Updated:
Keep

Queen Letizia has reopened Queen Sofia's wardrobe and this time has rescued none other than a superb Valentino from 45 years ago.
This is a beautiful design emerald green satin skirt and chiffon bodice embroidered with flowers, that the mother-in-law of the current sovereign took in 1977 and that today has seen the light again at the reception for the accredited diplomatic corps in Spain that was held at the Royal Palace in Madrid.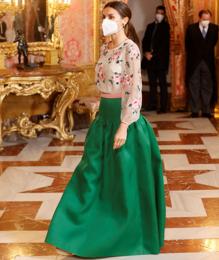 Sofía premiered this ensemble on a trip she then made to Germany to attend a concert. Letizia has recovered it for the official act of this Monday, January 17, in which the protocol indicates a long dress for them, making only a modification to the belt (laces sewn in two tones in one place of the original pink bow).
She accompanied it with a low ponytail, her usual Karen Hallam gold ring and ones ruby and gold earrings by TOUS.
In addition to reusing her clothes, in a clear message, Letizia continually winks at Sofía returning to show off their most special garments. He did it in 2018 by recovering two dresses from the queen mother, one red with puffed sleeves and the other striped, and in 2021 he again showed his complicity wearing another model, a romantic dress with flowers and powdery tones, who was 40 years old.
See them
comments