Emma Corrin's "sad clown" look to collect the award for her role as Lady Di
Updated:
Keep

Emma Corrin has been undoubtedly one of the most acclaimed during the 78th edition of the 2021 Golden Globes, on a night in which the award has also been proclaimed to Best Actress in a Drama for his role as Princess Diana in 'The Crown', an award he received by video calling from his home in London. The interpreter, known worldwide for her starring role in the Netflix series, has once again displayed her particular style in an atypical awards ceremony with a look with which everything points, it was a clear tribute to the character that has made her worthy of the award.
Tribute or coincidence?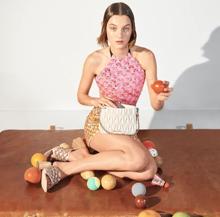 A very thought-out style, made to measure and signed by Miu Miu for the occasion that has given much to talk about. The actress is the image of the last campaign Miu Miu spring-summer 2021, a campaign directed by Benn Northover, which has been photographed by the legend Steven Meisel and styled by Lotta Volkova, one of the international stylists of the moment; So the choice of the brand of her dress has not been too surprising, but the inspiration of her styling set, by Harry Lambert, inspired by a "sad clown" has.
As Corrin herself has explained in an interview for Vogue UK, her look is inspired by "A Pierrot clown", and in case there was any doubt, both the actress and the stylist shared a publication of Emma's look followed by an image of this famous character from the 16th century Italian comedy, whose personality is attributed to the comedian Giuseppe Giratoni In XVII century.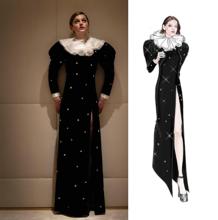 "It may sound strange, but we find inspiration in the Pierrot clowns, with their androgynous silhouettes and large necks"explained the actress. A sad clown that could be a tribute to the life of Lady Di by equating that feigned happiness that the princess transmitted and that Collins brought to the small screen; although at the moment none of them have been mentioned.
The look in detail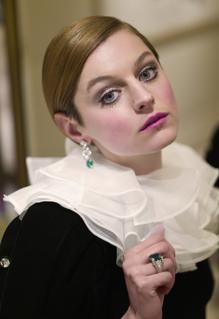 The style consisted of a black velvet dress with a side opening from Miuccia Prada's signature, with polka-dot crystals and a large white collar with several layers that reminded of those harlequin airs of this type of clown.
The actress completed the look with cartier jewelry and a natural base makeup by celebrity makeup artist Florrie White with a tear painted under her eye.
Without a doubt a great night for the cast of 'The Crown', since his partner in the series Josh O'Connor He also received recognition for his work on the series that has so upset the British crown. The actor, who plays Charles of England, received the dress award by the Spanish firm Loewe.
See them
comments