Correspondent in Paris
Updated:
save

His family announced late Tuesday morning the death of Pierre Cardin, at 98, one of the great "revolutionaries" and creators of fashion and haute couture of his time, whose franchises are now present in more than one hundred countries on five continents.
Cardin was born in Italy, in Sabt'Andrea di Barbaranna, in 1922, to a very large and modest family (ten siblings), who emigrated to France when the child was 6 years old, settling in a mining town, Saint- Etienne, which would later welcome a lot of Spanish emigration.
Very early he felt the vocation of the artistic creation and design. He "went up" to Paris by bicycle, to begin his career as a very ambitious apprentice, who would soon be associated with great personalities, between art, literature and haute couture, such as Jean Cocteau, who made him a major commission in his career : costumes and masks from a legendary movie, "Beauty and the Beast."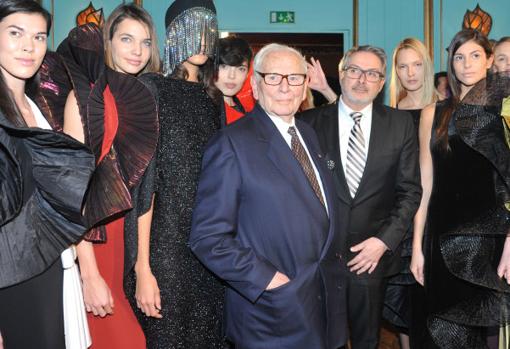 It was the beginning of a dizzying career. Working, very soon, with Christian Dior, his creations and commercial talent were successful relatively quickly. "Co-participant" in the very early launch of the "New Look" of the immediate post-WWII, Cardin quickly launched his first "boutiques", "clashing" with the established masters, to whom he ends up imposing a very personal daring: the immediate traditions and against the «bureaucracy» of the Parisian Haute Couture Trade Union Chamber, of legendary administrative «tyranny».
With another (Spanish) emigrant, Paco Rabanne, and another teacher, André Courrèges, Cardin created a string of futuristic seasons that significantly influenced the new directions of haute couture, breaking "molds" and traditions, counting on enthusiastic support of a certain elite of Parisian and New York fashion journalism.
Between the 60s and 70s of the last century, Cardin became a definitely universal figure, "breakthrough", not only in the field of fashion and the creation of a new world market.
On an intimate, personal level, Cardin began living with a Japanese model, Hiroko MatsumotoBefore spending four years with Jeanne Moreau, his most famous partner, to end up confessing and "deciding" to fully live a "very free" homosexuality.
Ambitious, gastronomic, creative, collector, Pierre Cardin launched successive national, European and international trends, turning his creative talent into a gold mine, through a spider web of international franchises.
Cardin began by selling haute couture, to automatically impose himself on pret-porter. He soon broke new commercial grounds related to wine, the arts of the table, the art of "receiving" and "living" in a definitely modern and cosmopolitan world.
A great lord of Italian origin, he bought a legendary palace, in Venice, and the castle of the Marquis de Sade, in Lacoste (Vaucluse). In Paris, he created the Espacio Cardin and tried to "modernize" a Parisian classic, Maxim's, which could not save itself from the final twilight.
Cosmopolitan millionaire, with a fortune valued at hundreds of millions of euros, Cardin was also respected as a man of culture, a fine arts scholar. Until his artistic and personal glory became a legend, and as such evoked in numerous European, American and Asian museums. His family has wanted to break the news with exquisite modesty. But honors will soon weave the crown of its cosmopolitan glory.
See them
comments