Updated:
Keep

Carmelo Jordá (Madrid, 1973) says that 'Generally distant places' (Anaya Touring) is "a very personal book". And yes, it is. He adds that he has no "craving for glory and money." He simply "needed to do it." Jordá is a journalist in the broad extension of the word (Libertad Digital, esRadio), a specialist in politics and in many other areas. I once heard him say a phrase that perhaps defines him well: "If there is a story, I am always available." He is also a travel journalist, a regular at airports, at tourist office presentations, at any destination that finds a place on his agenda.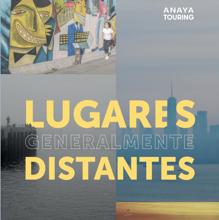 From that traveling life this personal look is born with which he does not intend to earn money, but, perhaps, to recover the favorite moments of his memory. 'Places … "is the travel book of what some would now call a' flâneur ', a walker, someone who wanders around the world curiously without any specific objective. In its pages we discover another perspective of popular destinations (New York, Rome, Berlin, Jerusalem, Ireland, Egypt), which acquire new nuances when we dive into their descriptions, when we get into their head, when we see their photographs, which illustrate these pages. With Carmelo Jordá we have talked about travel, of course, but also about journalism and literature. And an idea fuels the conversation: "Traveling is always wonderful."
Why do you choose one destination and not another when you have a few days to leave home? And how did you make the selection of 'Places': why have these been and not others?
My reasons for traveling are the most varied, but the main one is usually the simplest: that a possibility arises and can be taken advantage of. Of course there are dream destinations, but unfortunately dreams do not always come true.
With the exception of Madrid, the selection of 'Generally distant places' has actually been somewhat less voluntary than it seems, I would almost say that the destinations have chosen me more than I chose them.
In those pages he asks himself, like a question mark, if traveling is always wonderful. Do you have the answer? It is?
Yes, as long as your attitude is right and you try hard enough to enjoy what the place where you are has to offer.
Describe more cities than mountains or forests. Was it a coincidence or is urban culture your thing?
I really like nature, but it is clear that I am more urban and looking at the index of 'Generally distant places' I cannot deny it. I also suppose that, beyond the fact that I also like nature, it is easier for me to write about my experiences in cities.
After reading your texts on Jerusalem, Rome, Berlin or New York, I can't say which one you like best and why. Can you clear the doubt?
My favorite city in the world, and probably my favorite place in the world, is New York. But I also love the others: Rome is beautiful, Berlin is extremely interesting and Jerusalem is a unique and amazing place, really special. And they are so different that to recommend one or the other you should know a little more about the traveler.
There are many forms of travel. After a lifetime in dance, what is your perfect trip like? For example, alone or in company? Do you study the destinations or do you get carried away?
When I work I think that traveling alone is the best, the most productive, but usually traveling in company is more fun. Regarding preparation, I always have a bit of a bad conscience because I don't study destinations as I should, but the truth is that I like to let myself go and be surprised.
Based on what you have learned and what you tell in your 'Places…', do you really think that the pandemic is going to change the way we travel?
For now, I think it has, and now what remains to be seen is whether that change takes a long or short time to completely reverse itself or where it has come to stay, which I hope is small.
And how do you see travel journalism? It has changed a lot these years, especially after the 'web effect'. For better or worse?
That journalism of any kind is going through a major crisis on many levels is not a secret, some things have probably gotten worse, but I also have the feeling that others have improved and, above all, that the idealized image of the profession before the 'web effect' it's probably just that: an idealized image.
Is there good travel literature? Or in that also we are in crisis?
I believe that good travel literature continues to be made today, the book 'Asombro y disenchantment', by Jorge Bustos, for example, seemed splendid to me. Of course, it takes some time for the most superfluous things to pass and what is really worth it remains and we can put it together with the classics in our library.
Places… 'is a very personal way of looking at and counting destinations. Do you think that is the way?
I have always thought that, having a tool as powerful as the internet to offer practical information on destinations, travel journalism should focus on something else, not so much on providing data as on stimulating the reader to travel and learn. Of course: I like to do it that way and I think that is what I can do better, but that each one approaches the thing as they see fit. That is my path, but I would not dare to say that it is the path.
His book does not lack a certain critical tone towards some type of traveler or towards some attitude. What bothers you about a type of tourism or some tourists?
I am not bothered by any type of tourism, I do not have an elitist vision of the trip, rather the opposite. What does give me some anger is the indolent traveler, the one who does not take advantage of the wonder that is to travel and does not get the most out of the place where he is.
'Places…' is full of his photographs. Are the destinations very different seen with the eyes and with the objective?
I suppose it is a professional deformation, but when I travel I am unable to differentiate my eyes from the lens of the camera: almost everything I look at I do it looking for the photographs that there are to discover.
Dedicate a chapter to the roads. Why do you like them so much? What is your favorite?
As that ad said: I like to drive and it also seems like a great way to get to know a place. Under the right conditions, the union between the landscape, the asphalt and a moderately powerful car is a real pleasure.
I confess that it is impossible for me to choose my preferred road, but in return I will tell you the first one that came to mind when I thought about the best: the one that follows the coast in the northern part of the Ring of Kerry, in Ireland.
Where would I go back to tomorrow?
To that road, to New York, to any other of those that appear in 'Generally distant places' …
Which one do you have no intention of going to or returning to?
The truth is that I repeat few destinations because the world is very big, there is much to know and not so many opportunities, but I have never been anywhere where I have regretted having gone. If you do not choose in a very clumsy way, it is difficult to end up in a place that is not worth it.
What have you learned from your travel life? What teaching is left?
It is very difficult to summarize it in a few sentences, to focus on something I will tell you that perhaps the main thing is that the trip is a good metaphor for everything else in life: the more you put on your part – the more attention, interest, effort, you win … – the more it gives you back, the greater the reward and the enjoyment.
And, of course, nothing can replace that enriching experience of knowing beautiful places, interesting people and stories that is moving around the world.
See them
comments