old cacelle
Cacela Velha, belonging to the municipality of Vila Real de San António, is one of those postcard villages, next to the Ría Formosa Natural Park. On the horizon we see one-story white houses with ornamentation reminiscent of its Muslim past. Centuries of history have made this small coastal town an enclave for Greek, Phoenician and Roman sailors, but recently archaeological remains have been discovered that suggest that the Arab city of Qast'alla Daraj must have been located there in the 10th century. In fact, one of its streets bears the name of the poet Abú Al-Abdarí, who would have been born in this place. Now it is a small town of farmers and fishermen, dotted with orange and olive groves, a 16th century church and a somewhat later fort. Quiet, cozy and just one hour from Huelva.
Tavira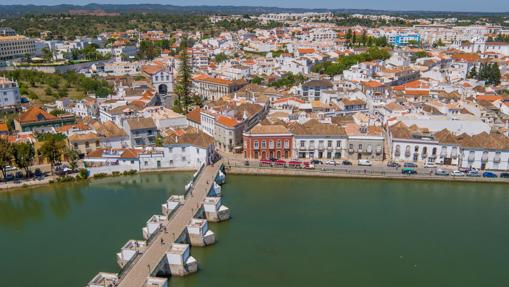 Tavira is a city of 13,500 inhabitants, but it has managed to maintain its essence. The Gilão River, which runs through it, draws one of the most picturesque sights of the city: Rua Borda d'Água da Asseca, a street where you can walk and sit in a bar or restaurant to taste the typical Algarvian dish, the cataplana, an exquisite fish zarzuela. For the rest, Tavira has a thriving tourist activity, with thousands of possibilities: tour the city by tuk-tuk, on the tourist train, get on a boat or go on a bird watching excursion. It also has a castle, whose access is free, and multiple small churches with openwork walls. More options? Strolling the handicraft shops on Rua da Liberdade, photographing ourselves on the Roman bridge or having a drink at Praça da República, where there is an open-air amphitheater that hosts cultural shows during good weather.
Olhão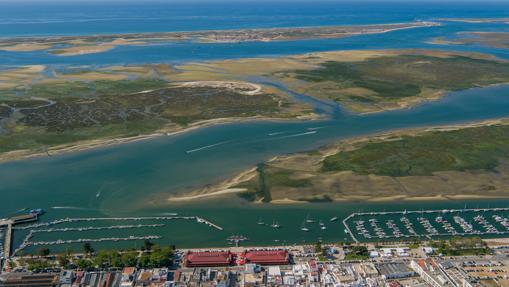 Known for its canneries and for being one of the tuna export centers, the city has the largest fishing port in the entire Algarve and some of the best beaches in Europe. The best plan is to get lost in its neighborhoods, with cubic houses and tiled facades, which give off that special charm that is only seen in the southernmost territories. In contrast to the whiteness of the common architecture, the Municipal Market stands out, with its two large warehouses, one dedicated to the sale of fresh fish and the other dedicated to the sale of vegetables. This orange brick building dates from 1912 and is surrounded by sunny outdoor terraces. In Olhão you have to stop at the paradisiacal beaches of Armona and Fuseta. Small boats depart regularly from the ports of Olhão and Fuseta to enjoy this pair of jewels, belonging to the Ria Formosa Natural Park.
Ferragudo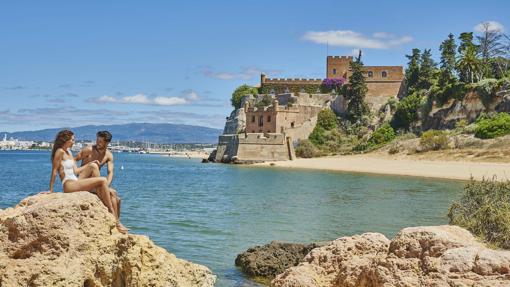 Ferragudo does not reach 2,000 inhabitants and oozes charm. It is perched on a hill on the banks of the Ría del Arade, like a mound of narrow, disorderly and private streets. Among the combination of white walls and vibrant colors, its top appears, crowned by the Church of Nuestra Señora de la Concepción, a construction that had to be completely remodeled after the great earthquake that devastated Portugal in 1755.
To speak of Ferragudo is to speak of humble fishermen who established their settlement there in the 14th century looking for food at the mouth of the Arade River. It is an ideal place to disconnect, where you can breathe calm. A calm that contrasts with its closest surroundings, since just 15 minutes away is Praia da Rocha, with an intense social activity, bars, pubs and parties, and a little further, at the bottom of the estuary, it rises the city of Portimão, one of the most important in the Portuguese Algarve. In fact, there is a water taxi to Portimão.
One of the activities that you cannot forget to do in Ferragudo is the route through the famous Benagil cave. The ship departs from Ferragudo, passes through Carvoeiro and Alfanzina until it reaches this grotto of impressive rocky shapes capriciously shaped by the sea. This excursion lasts 1 hour and 45 minutes. As an alternative for the little ones, there are also boat trips for dolphin watching.
Vila do Bispo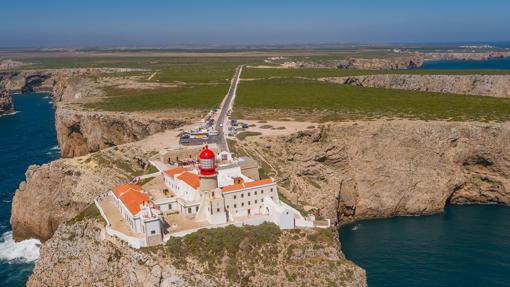 Vila do Bispo consists of several parishes (districts), such as Sagres and Cape San Vicente, the most southwestern point of all continental Europe. It is an area where surfers usually travel to hunt waves. In fact, there is also this possibility for visitors who want to learn, since there are several surf schools. Paragliding and scuba diving are also practiced in the area, in an environment of wild, virgin, remote beaches, which are part of one of the largest protected areas in Portugal: the Costa Vicentina Natural Park. In addition, there rest prehistoric vestiges with more than 6,000 years old, located in the mountain area. Specifically, both the Menhir do Padrão and Monte dos Amantes are very visited.