Updated:
Keep

french designer Thierry Mugler has died in Paris at the age of 73. the creator, who reigned in the fashion industry in the 80s and dressed dozens of celebrities, died this Sunday unexpectedly and as a result of "natural causes", as reported su representative Jean-Baptiste Rougeot.
According to the spokesperson, the couturier and stylist was scheduled to announce new collaborations this week.
mugler designed for daring and sensual women, for 'warriors' and 'femme fatale', and he did it with patterns of geometric shapes, structured and stylized, very striking. He shone in the 1980s, when in addition to his collections – with provocations such as a pregnant 'madonna' on the catwalk – he was often a contributor to major magazines and fashion photographers.
"Me I always thought that fashion by itself was insufficient and that it had to be shown in its musical and theatrical environment," Mugler once said.
Years later, and although he was officially retired, he dressed Beyonce and Lady Gaga, and in 2019 she appeared again to create the dress of Kim Kardashian for that year's extravagant Met Gala.
Born in Strasbourg in December 1948, he studied ballet while creating fashion as a hobby. He arrived in Paris at the age of 20 with the idea of ​​continuing to dance, but there he created his brand 'Café de Paris' in 1973 and later his definitive signature, 'Thierry Mugler'. She was also very successful with her perfume 'Angel'.
His designs highlighted and celebrated the female forms: accentuated shoulders, wide necklines, narrow waists and rounded hips. «Dance taught me a lot about posture, the organization of the clothes, the importance of the shoulders, the game and the rhythm of the legs", Mugler commented.
Mugler also dominated the staging. He staged spectacular performances for his creations, marking the beginning of the modern fashion spectacle.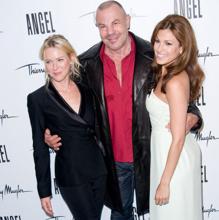 "Current fashion presentations are a continuation of what Mugler invented," said Didier Grumbach, former president of the Thierry Mugler brand.
For the tenth anniversary of his brand, in 1984, he organized the first public fashion show in Europe with 6,000 spectators, in an event similar to a rock concert.
And in celebration of the 20th anniversary, in 1995, he put on a memorable show at the Cirque d'Hiver, with the participation of the great models, such as Jerry Hall, Naomi Campbell, Eva Herzigova and Kate Moss, alongside stars such as Tippi Hedren, Julie Newmar and James Brown.
See them
comments