From the divas of Andres Sarda to the secret society of Fernando Claro, this has been the first day of Madrid Fashion Week
Updated:
Keep

The first day of Mercedes-Benz Fashion Week Madrid autumn / winter 2021-22 in Ifema between security measures due to the pandemic, a very limited capacity of 24% attendance and new ways of making and presenting fashion to which designers have had to adapt and in many cases reinvent themselves to continue advancing and presenting proposals in this "New normal."
Moses Nieto This time he was the first to present his proposals with a staging very different from the usual one and without an audience. And now it is the turn of the first day of parades in Ifema, which kick off the Madrid fashion week held at the fairgrounds of the April 8-11. On this occasion, the sessions will maintain a hybrid format, as they did in the previous edition held in September, in which the different designers have managed to present their collections to professionals in the sector between 'fashion films', with virtual catwalks, performances and other formats.
Of the "Powerful and decisive divas" following in the wake of 'Revolution and Revelion' by Andres Sarda; to the secret society of 2057 of Fernando Claro; to the "latent" of Other which debuts for the first time on the Madrid catwalk; and the search for sensuality and eroticism in times of social distance that it proposes Maya Hansen. We review the new guidelines for next autumn / winter 2021-22 that have been seen on this first day of
MBFWMadrid.
Andres Sarda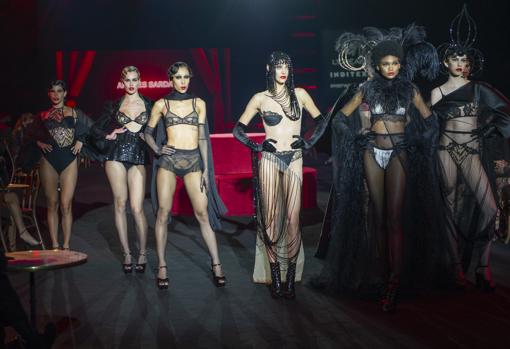 "In this collection we have especially wanted to propose a collection that brings together, more than ever, beauty and well-being, comfort, joy and sophistication to counteract, as far as possible, the difficult times that we live", they comment from the firm. Some proposals that have been presented through a 'fashion film' with the realization of Eugenio Recuenco, the address of Alberto Murtra and the actors Lali Esposito and Enric Auquer. «The film is a promise of what is to come, that the difficult times we are currently living will pass and it places us in optimism, celebration, celebration and joy, enhancing the values ​​of the Sardinian woman of freedom, strength and resilience ", they explain.
The second part of its staging has given way to a 'performance' to present a collection structured in five steps with women's names, inspired by "five extraordinary women who with their perseverance and talent changed their destiny", they tell us. This is how they present Raven, with its wonderful silk and modal fabric and its cotton lace to highlight the femininity and beauty of the wearer. Wang that combines printed silk crepe and contrasting leavers lace. Margaret, crafted in stretch French leavers lace, combines shades of boiler blue, a surprisingly flattering combination. Tamara, the most sophisticated series, in which haute couture lace is combined with contrasting embroidered tulle and stretch silk satin. And finally, Renata, a capsule that combines invisible tulle embroidered with black paillettes and edged with elastic leavers lace.
Fernando Claro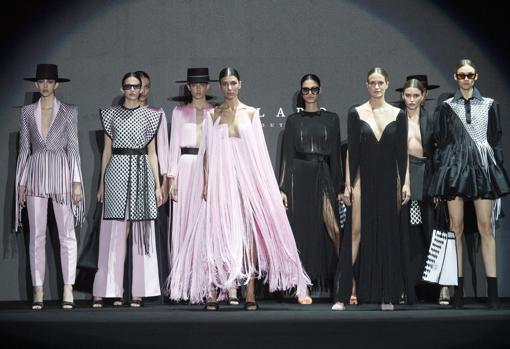 Fernando Claro proposes 'LIS', a secret society of the year 2057 where money does not exist and the currency of exchange is the most respectable human values ​​such as loyalty, honor and the word seviste with straight but sophisticated lines. Samurai overlays, large hand-braided jackets on request and very versatile for multiple occasions. Putting in value once again the luxury of handmade garments.
Organic garments with fluid movement with fringes on dresses, bodysuits and jackets. For a winter in which there will be no shortage of large coats as a cape and sophisticated suits that provide packaging to whoever wears it.
Off Program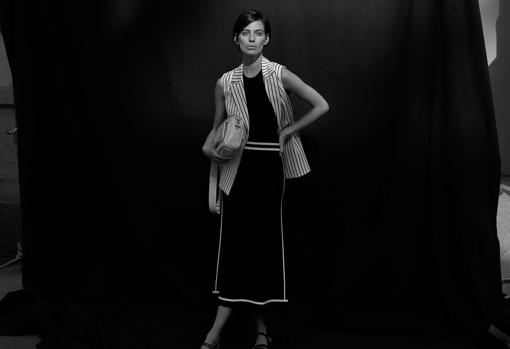 As has become customary at each appointment with the great Spanish fashion platform, there are several designers who join the Off program, participating with different formats in various locations in the city of Madrid. On this first day it is the turn of Roberto Verino, Garcia Madrid who have opted for the digital format and Eduardo Navarrete with his 'Chinese Theater' that he will present in Florida Retiro, a novel proposal that is inspired by and serves as a tribute to the 20th century star, Manolita Chen. For next autumn / winter, Eduardo feeds on themes such as the circus, the stars and the talent 'made in Spain', betting on the most innovative prints of his own production, quality fashion and a production adapted to the most innovative techniques with collections for men, women, bathrooms and children, all of them without losing their essence: groundbreaking fashion and innovative and fun proposals.
For its part, Roberto Verino presents on this day its spring / summer 2021 collection- Roberto hace 'See now, Buy now'– based on "ESSENTIALISM" and delves into the concept of Emotional Wardrobes, "garments that are part of our life, that we value for their memories, that we treasure for their emotional content and that are small daily amulets that wrap our soul", as defined by the designer himself. A virtual parade that is presented within the framework of MBFWMadrid and that it will be installed until April 20 in the section of Serrano Street between Ortega y Gasset Street and Hermosilla; and that tries to apply in a textual way the motto of this edition of Madrid is Fashion, that fashion takes the streets of the city.
See them
comments