Glory and tragedy in K2, the wild mountain
Updated:
save

It had to have been a big day at K2 base camp, but it ended up being a funeral. Those responsible for the three expeditions involved in the summit attack had been waiting anxiously for hours. It was a matter of time before the ten Sherpas who had slept in Camp 4 reached the summit of the Karakorum Colossus for the first time in history during winter. After years of trying, the wild mountain had given a truce to a group of Nepalese who, with the help of bottled oxygen, had exceeded all limits known so far and they were heading towards the summit. Glory at hand. So much so that they decided to regroup ten meters from the top to step on the highest point at the same time, banishing egos and giving honor to their country. In fact, they walked that last stretch together and singing the national anthem of their country.
It was 1:00 p.m. and at that very moment Sergi Mingote continued his descent on the way to base camp after having spent a night at an altitude of 7,000 meters. His was an even greater challenge, pursuing the same glory his fellow climbers had just savored, but with a pure style, without using bottled oxygen, considered "doping" by most of the mountaineering community. Precisely for that, the Catalan had decided to go down to regain strength before launching his final attack to the top in the next few days. Project frustrated, because around 4:00 p.m. he suffered a fatal fall while running at some point between Camp 1 and the advanced base camp (CBA).
At that moment, the laughter and hugs from the control center were suddenly cut off and the champagne stopped flowing. The first messages were confusing, but they anticipated the tragedy. "Sergi has suffered a fall and the rescue has been activated," they acknowledged. The Spanish GPS registered a dizzying descent that denoted a drop from 6,000 meters to 5,400, one step away from the CBA where, coincidentally, there were several mountaineers who tried to help him.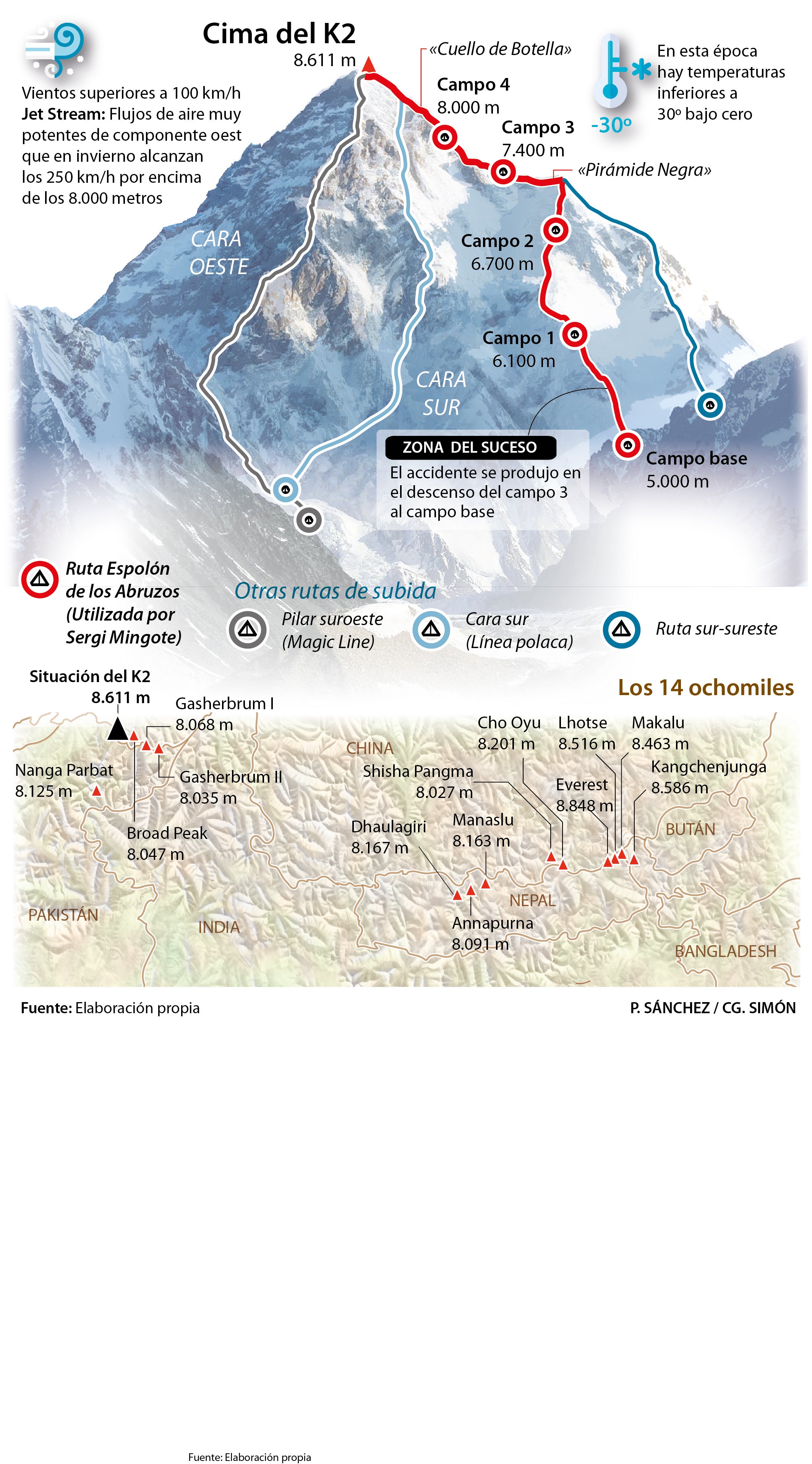 «Alex Gavan, Tamara Lunger, Magdalena Gorzkowska and Oswald Rodrigo Pereira they have assisted him in the CBA. We have sent medical supplies from the base camp, but unfortunately we have no longer been able to save him, "the agency explained in a statement. «Seven Summit Treks», whose project Mingote co-led together with Chhang Dawa Sherpa.
The Chilean Juan Pablo Mohr, who was making the descent with the Spaniard, was the only witness to the fall that cost Mingote his death. A goodbye that confirms the dangerousness of K2, the most lethal mountain in the world in winter due to its extreme difficulty and its changing weather conditions. Death that tarnished a historic day for the mountain world.
See them
comments