"It is important that we have other options"
Updated:
Keep

At Madrid fashion week, the youth and beauty of the women who wear the designers' creations are taken for granted. This year, at the presentation of the collections for next fall and as it happens every time, the models were spindly and graceful nymphs with shiny skin and a girl's face under makeup. Beautiful, perfect. However, every time she had to go out to parade the reaction of admiration between the public and the press was unanimous. Pino Montesdeoca is magnetic. Also very pretty, but with her 58 great years on the catwalk, with her gray hair and her smile, with that way of wearing clothes – and life – with poise and elegance, as well as with a certain lightness and powerful vitality, it is ravishing.
His thing with fashion was not love at first sight, far from it. His history in this industry began almost by chance, as the 'top models' often tell about theirs, but in his case it happened already in maturity, after half a century of life. The success, however, was immediate. Since launching five years ago, driven by circumstance and eager to try something new, and prove herself after leaving travel and work due to illness, her career has been dizzying.
Born in Las Palmas, Pino Montesdeoca began this "second part" doing advertising campaigns and editorial productions, and shortly after she made the leap to the catwalks and from there to the latest, yet to be released, which is fiction.
How was that unexpected start as a model?
This is all new to me. I am a teacher and I worked in a Swiss finance company, with which in 2003 I went to the Balkans and from there to the Bahamas. There I got very sick, so much so that they gave me the last rites. I had dengue hemorrhagic fever from a mosquito bite. Then, when I recovered, when I saw that I did not die, enlightenment came to me and I said to myself "I'm not missing anything anymore!" So I had to leave the island, so I returned to Spain and here I was in a kind of work limbo. I didn't care at first either, I just worried about seeing my people, making up time, doing a lot of things that I hadn't been able to do until then for work. Until I got tired and wanted to have a routine again, without knowing how at 53 years old. My daughter and her husband insisted a lot until he, who is a photographer (Coke Riera), did a photo session for me, for which they dressed me and a hairdresser we adore did my hair. I had a blast, the photos were seen by an agency, they hired me and I am still with them today.
And you haven't stopped
That's right, since they saw that production I have not stopped working. I did not propose it, I thought it was crazy, although not because of my age, curiously, but because I did not see myself, I thought I was another type of woman, but that was exactly what made the difference. I started with advertising, which opened the doors for me. I was playing at being me, I didn't pretend to be a model, and it turns out that is what the brands, the designers, were asking for. Then came the editorials, fashion, even now I'm doing a little bit in film and series. I look at myself and laugh, I can't believe it.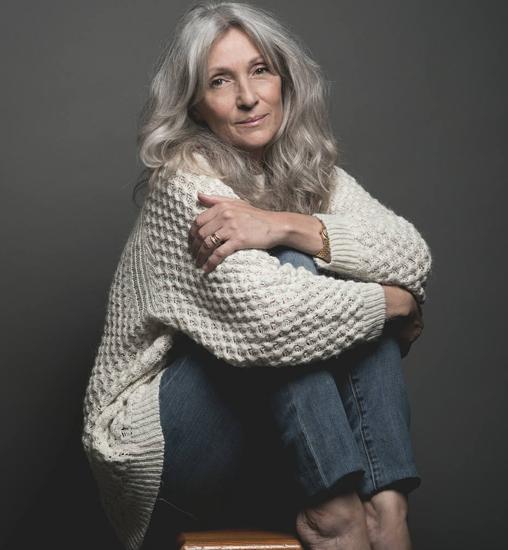 For those of us who see you in a campaign or on the catwalk, it is shocking, and exciting, to find other types of women, not just the young and perfect ones. The pressure that exists with the image and with age is tremendous.
Listening to my daughters, 35 and 40, women with education and professionals, talk about aesthetics, I realize the brutal pressure there is. I think different men and women need to come out. I am not saying that it is wrong to get touch-ups and look cute, it is a fantastic option, but there is also my option, that of accepting every day that you get little wrinkles and flaps and a little of everything and that nothing happens, that we show what it causes time naturally and nothing happens. It is important that we have these options.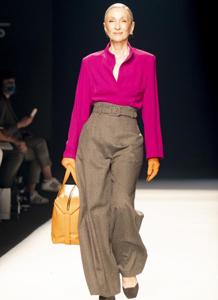 How is the experience of parading on the Madrid catwalk?
This is the third time I have done it. I have walked for Duyos, Pedro del Hierro, Ángel Schelesser and Otrura, among others. What I like the most is that they allow me to be myself. Normally models don't smile, but when I got out I couldn't stop doing it. And they liked it. They liked my image of a woman who can be in the street and also on the catwalk.
And how do you feel walking with those models, almost girls. Does the passage of time affect you?
They are ideal and will always have their place assured. For my part, I am very clear that I must recognize myself. I think I've always liked it. Of course, it is not to my liking that my expression changes because my skin falls a little or I have flaccidity in the legs, breast or neck, but they are things that affect you the first day, after three days you get used to it and you go accepting it. As I told you, I am very afraid of not recognizing myself. I value being alive and kicking, continuing to celebrate my birthday, I like knowing that I have two legs that work, that I don't have pain or cholesterol, I feel privileged, so the body goes to another level.
How you take care of yourself? Are you worried, for example, about gaining weight?
He has always eaten when he was hungry, and that usually happens to me once a day. I have been criticized a lot for this and the doctors scolded non-stop, but my analytics are fine. If that's taking care of yourself, I've done it without knowing. And since I like to walk a lot, I walk with my dogs, usually in the early morning for a couple of hours. That is my time to talk intimately. That is the most the body asks for. But I am an active woman, I always have been.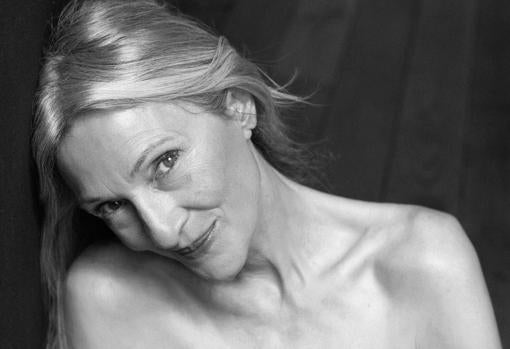 There is currently a movement in favor of gray hair in women, especially among Anglo-Saxon influencers. You wear your hair like this, what is vindictive about it?
When I was in the Bahamas, about 48 years old, I saw that I could not give myself the dye as often as before and I stopped doing my highlights, almost without realizing it, because I did not think they would be so noticeable. But my brother warned me one day: "Pino, your whole head is white." When I returned here I saw that it was a bummer to get my hair back once you have it like that and I decided to leave it for 'gandulitis', it was nothing else.
What do you think of ageism? Do you think there is age discrimination and that being young is overrated?
Of course there is, everywhere. It seems incredible that something banal like fashion is the precursor of such a brutal movement that has to do with it being okay to grow up. This has very interesting repercussions in society, because perhaps one day a woman who presents her resume at 50 will not feel that age is a definitive factor, as it does now.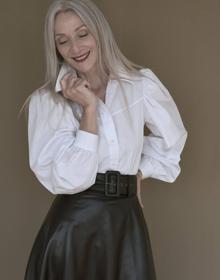 You are tremendously elegant. What is elegance for you?
I don't know how to define it, you feel it when you see it. It is a way of moving, of looking, even of walking, that does not have to be pretty, but it does emit something special. I have even seen it in people in Africa, in very poor villages. Perhaps elegance is dignity.
And the beauty?
For me it has a lot to do with health, happiness, with a state. You can have a big nose and be very beautiful. If I 'dismembered' my face and see eyes, mouth and nose separately, I am not pretty, so it may be the gesture, a whole.
How would you define your style in fashion, when dressing?
I'm not going to give my style a name, but if there's one thing I don't like, it's feeling disguised. There are really cute looks, but I have to be able to sit or take a run at the traffic light. It is my way of moving that makes me dress in a certain way, which could be said to be comfortable but always elegant and a bit chic. Of course, I do not like the vulgar, like the 'animal print'.
See them
comments