Nieves Álvarez shines in Cannes with 3 looks that inspire the perfect vacation suitcase
Updated:
Keep

The Cannes film festival this year has left styles to remember, and not only in La Croissete red carpet, because its streets have been full of glamor these days. One of the last lessons in elegance comes from the hand of Nieves Alvarez. Our most international model traveled to the French city for just 24 hours in which she distilled good taste in each of her appearances thanks to her grace to show off all kinds of trends and also the work of her inseparable stylist, Victor White.
With the holidays closer and closer, all inspiration is good to find versatile yet practical lookss, and its three sets of examples are precisely that meet the requirements to also be very chic.
The first of them is an informal outfit that could well serve as an office style if the crop top is replaced by a more serious blouse, and also for long sightseeing trips when on vacation. It is composed of capri trousers with darts and high waist and oversized blazer of Alberta Ferretti which he combined with a camel crop top from the same firm, perfect to add a touch of powerful trend while being discreet.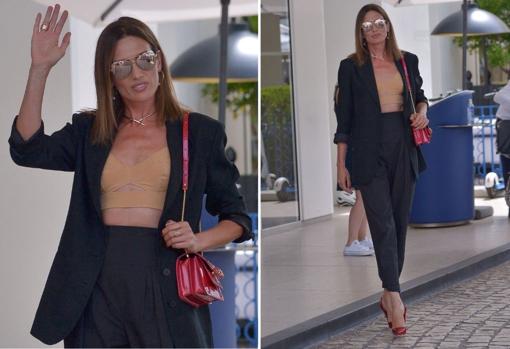 But without a doubt the elements that make the difference are the accessories in red that break with the color range and give it an even more sophisticated finish. On the one hand, the jewel minibag of bvlgari -similar to jewelry- and on the other hand, patent leather stilettos with a glitter finish Louboutin. In short, an off-road set whose strong point is the ease of admitting all kinds of accessories.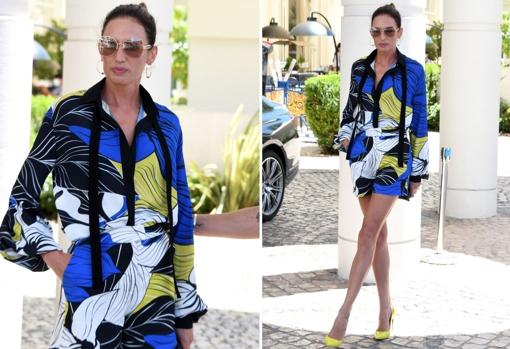 Second, a total arty inspired look from Elie Saab Composed of flowing shorts and blouse in Klein blue, lime, white and black. A very flattering set of seventies airs in these months since this color palette enhances the tan and contributes to making it stand out effortlessly. The garments also have puffed sleeves and two vertical strips that give it extra movement and show that a look like this hardly needs any dressings. In his case, the only thing that has been added has been some lime-colored salons from Louboutin and a small black clutch. The jewels, fine earrings, are also made of Bvlgari.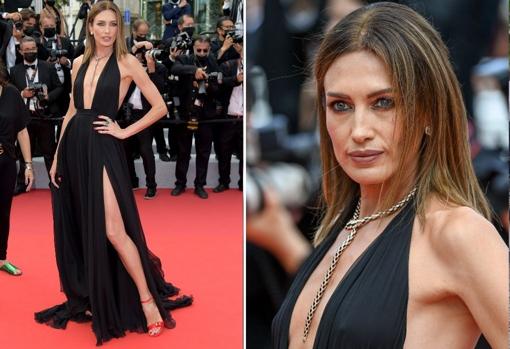 Finally, the imposing style with which he stepped on the red carpet. An outfit that the rest of the mortals would never carry in their vacation suitcase but from which a very valuable lesson was extracted: the black dress is a must that never fails, whatever time of year it is. He opted for a Greek-inspired design by Philosophy by Lorenzo Serafini with a satin finish and a deep halter neckline that left the entire back exposed. The black skirt included strategic openings that gave it a lot of flare and thanks to which the dress looked imposing.
As accessories, some red strappy sandals Loubouitn, the iconic snake choker of bvlgari made in white gold, diamond earrings and several XXL rings from the same firm.
See them
comments