One of the most beautiful and spectacular gardens on the Costa Brava
Updated:
Keep

The Gardens of Santa Clotilde, in Lloret de Mar, are part of the European Itinerary of Historic Gardens, a route certified by the Council of Europe that has brought to light the least known gardens of the continent. Hidden in the epicenter of the Costa Brava, these Noucentista gardens are a luminous destination located on a cliff overlooking the sea.
The European Itinerary of Historic Gardens -a non-profit association- is a cultural route certified by the Council that was born in 2016 as a result of the impulse of the city of Lloret de Mar, the collaboration of the Aranjuez City Council and the Heritage laboratory and Cultural Tourism of the University of Barcelona.
With their 29,000 square meters, the Santa Clotilde Gardens are the largest Mediterranean flowerbeds on the European Route of Historic Gardens. Its location between Cala Boadella and Fenals beach makes them a unique space from where you can enjoy the synergy of all the elements of nature.
The gardens were designed in 1919 by the architect Nicolu Maria Rubió i Tudurí, a great follower of Jean-Claude Nicolas Forestier, who designed the Montjuïc gardens and the Ciutadella Park in Barcelona. The structure is organized around the main staircase, known as Sirens Staircase, which descends from an esplanade to the sea. In addition, there are three paths that converge in a large square and evoke a mediterranean amphitheater of classical symmetries. Across the entire surface of the gardens, the diversity of Mediterranean plant species such as pines, linden trees or cypresses alternates with small ponds and sculptural ensembles.
The relief of the terrain allows us to appreciate from the different viewpoints how both natural spaces, water and land, merge. Mythological characters such as Venus and the mermaids, and busts that emulate the Roman sculpture from the imperial era, are immersed in this idyllic world that represents the noucentista garden of Santa Clotilde.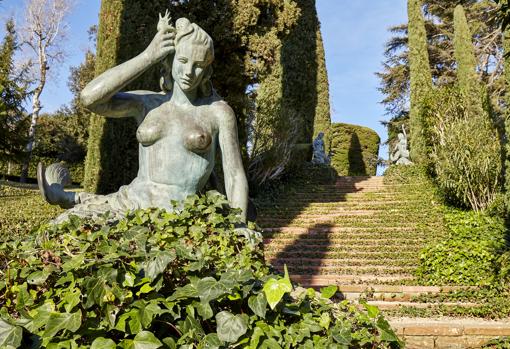 In 1972, the Gardens were declared Picturesque place by the Government and, in 1994, the Generalitat cataloged them as Cultural Asset of National Interest (BCIN) in the category of Historic Garden, within the process of reclassification of picturesque parks that turned them into Cultural Heritage of Catalonia. In 1997, ownership of the Santa Clotilde Gardens was transferred to the Lloret de Mar City Council.
Other gardens
In Spain there are other gardens that are part of this group, such as those of the Palacio de Aranjuez, near Madrid, and the Gardens of the Alhambra and Generalife, in Granada. In the rest of Europe, the historic Boboli Garden in Florence, Italy, stands out; the Monserrate Park, in Sintra, Portugal, or the Herrenhausen Gardens, in Hannover, Germany, among other fascinating bucolic spaces.
In addition to their scenic value, these gardens have historical value since they are linked to places of great historical importance: royal palaces, castles, towns, nobles and bourgeois villas.
See them
comments