Updated:
save

When we contemplate the swimwear that designers propose to us in this edition of Swim Week by Moda Cálida, the first thing that comes to mind is the expression "who has seen us and who sees us". We, the Spaniards, who have always been a few steps behind the European in wearing bikinis, now take the lead and tell Europe what they are going to wear next summer. And the showcase, the Canarian catwalk.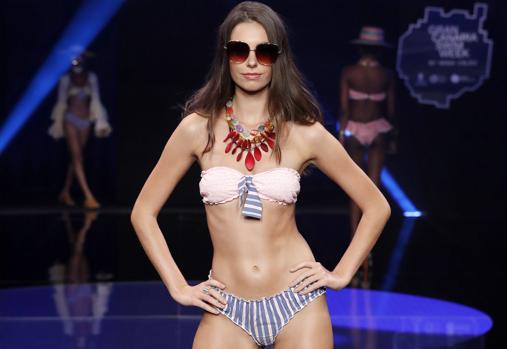 It is surprising to be the head of swimwear, not because there is no quality, which there is, but because only seventy or eighty years ago, in the course of a generation and a half, we have left behind the «beach warning signs", Those who stood in different parts of the walk to shout" what the law is coming! " and that women who were without a bathrobe ran out to dive into the water.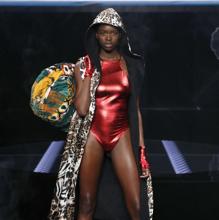 We are talking about the fact that while Ursula Andress dazzled the world on the big screen with that bikini next to James Bond, we had to wear stockings, the skirt always below the knee, hair up, no make-up … Of bikinis, we don't even talk . It was forbidden until 1962, the year in which that brave mayor of Benidorm, Pedro Zaragoza, allowed that "cursed" garment of Luis Rèard.
But those were other times of which no trace remains. Now we wear thong bikini bottoms without any complexities and, more importantly, they are garments by our designers.
On this catwalk, local brands were accompanied by internationally renowned firms such as Agatha Ruiz de la Prada, that never disappoints and puts the party on the tables and color. One hundred percent striking proposals, large volumes, many tulles. Agatha in its purest form. He put a final touch on a day with great proposals.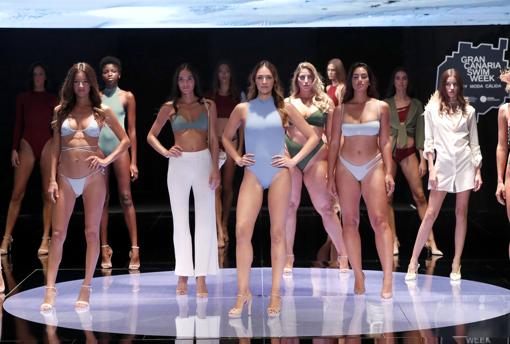 It would be the veteran firm Dolores Cortes who opened the day with the swimwear collection that he recently presented on the Mercedes Benz Fashion Week Madrid catwalk. By chance, she also thought of remote times, in the beginnings of the pool, in this case the Valencian spa of Las Arenas, where for its inauguration the local artist Josep Renau drew up a poster that is reflected in the pattern of this collection. With Art Deco air and divided into two types of proposals: the daytime, with lighter colors and sailor airs, and at night, blue reflections in the pool water. In swimwear, she knows well what this designer is up to.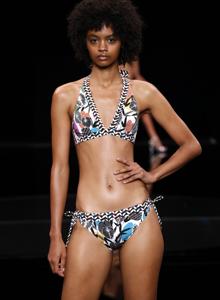 If we talk about veteranism or knowing what it is to fight in each collection, that is the island Nuria Gonzalez. A pioneer in the sector and one that has been since the beginning of this catwalk. On this occasion, instead of putting his island prints on the garments, he did it on the bags. A powerful collection, with force, of great colors and where boxing has played a leading role.
Godmother of the event
Finally, the godmother of the event, Paz Vega, appeared, who was lucky enough to see the collection of a designer to consider: the islander Pedro Palmas. Winner of the Best Collection award, which he shared with the designer Aurelia Gil who was parading the day before. Palmas has years of experience in bridal, haute couture and ready-to-wear, and this time it presented a collection for men and women with a soft print that was only broken by bright reds in dresses, more at night than on the beach. All complemented by wonderful kaftans.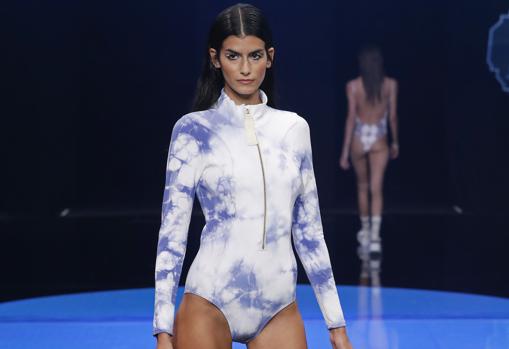 Clara Esteve, designer of the young firm All That She Loves, He does not paint his clothes with prints, but with tints. Since his time at the Catalan firm TCN, it is what he likes the most and wants his garments to be as personal as his dyes are. A work of so much craftsmanship that it marks a style. "It's what I want, to set a style, not because now dyeing is in fashion, but forever," the young designer told us moments before starting the show. She takes care of everything, that is, the materials, with wetsuits, silks, cottons, but she also uses polyamides, rescued from fishermen's nets, something that won her the award for the best sustainable collection last year. And that this year repeats. A brand with values.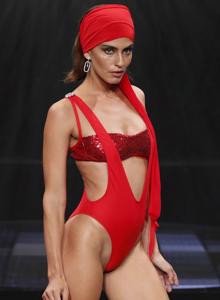 On this occasion he was competing for that award with the Catalan firm All Sister, where the creative director, Patricia Caballero, with experience in firms such as Massimo Dutti and Carolina Herrera, proposes a suggestive collection, where mini-pants were combined with garments for XXL models. Suggestive, but without touching the scandalous. And for all types of women. Ole. And with eco-sustainable fabrics such as polyamines. He also used the plus-size model el grancanario Arcadio Dominguez. His collection was more a complement than a bathroom itself. Basic swimsuit pieces adorned with bows.
Also the signature Like a fish in the water fight for sustainability in fashion. Raquel Pérez is clear that her garments are pure and sustainable crafts. Replace synthetic stretch fabrics with natural fibers such as poplin, cotton sheepskin, and voile. Inspired by the 1950s, gingham check bikini, stripes, adorned with ruffles, began to appear. To highlight the girones skirts in soft colors. Shared space in a double parade with the proposals of Emphasis, El Corte Inglés brand, much more demure in the swimsuits, with very high backs, and although the swimsuits stood out, there was space for high-rise bikini bottoms and very wide straps at the neckline.
This is the end of a new edition of this trend-setting swimwear catwalk in Spain and, what makes us most proud, in Europe.
See them
comments