Queen Letizia bets on Basque fashion during her visit to Vitoria
Updated:
Keep

The Queen Letizia has started its official agenda for the month of June this Tuesday with a trip to Vitoria together with King Felipe VI to inaugurate the Memorial Center for the Victims of Terrorism. A space that collects the history of terrorism in Spain in a city where the terrorist group ETA was very present for decades.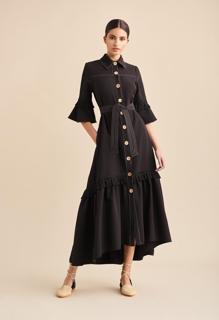 «The permanent exhibition that we also inaugurate today, together with the temporary 'March Eleven', which we have just visited, is a pioneering project in Europe that is at the forefront of the various memorials that are being launched in the countries of our country. environment", has explained the King, while adding that it is «a project that is called to be an international benchmark for the visibility of victims of terrorism, of their memory and dignity and, therefore, for the strengthening of the democratic values ​​that the victims represent and that make us better as a society.
A nod to Basque fashion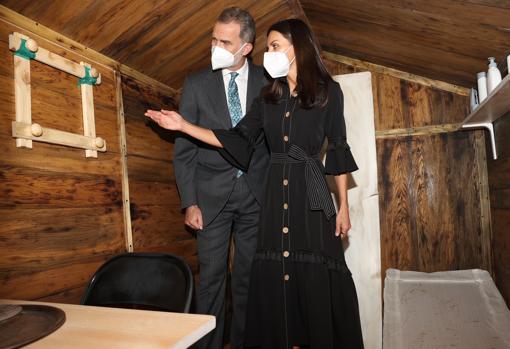 For the occasion, the Queen Letizia has opted to pay its particular tribute to Basque fashion by opting for a sophisticated shirt dress from a Bilbao designer. has decided to wear a 'total black' according to the occasion. A 'total black' style with coconut buttons, lapel collar and elbow sleeves finished off by ruffles. Featuring an asymmetrical hem, a belt with contrasting stitching and fringes at the bottom of the skirt, this is a creation of the designer. Leyre Doueil, whose firm is committed to creating limited edition pieces in small artisan workshops in Bilbao.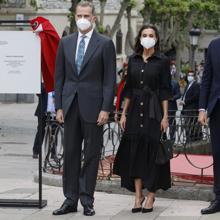 The dress can be purchased both in the designer's online store as on the ES Fascinante website, where you can find designs by different Spanish creators. The Queen's dress is for sale currently for 295 euros.
Mrs. Letizia has complemented its style with a handbag of the brand Hugo Boss and undercut pumps of Carolina Herrera. As for her jewelry, some hoop earrings in yellow gold and her geometric ring of Karem Hallam, a gift from her daughters, have been the choice chosen by the monarch.
See them
comments