Updated:
Keep

Queen Letizia puts the finishing touch to an intense week full of events in which she has even traveled to Vienna, in addition to attending various meetings in the capital. Days in which his wardrobe has also been very varied, since they have been seen from premiere garments to older options from his wardrobe to which he has given a new life.
This morning he presided over the XI edition of the Forum organized by the AECC, organization with which it is very committed, on the occasion of World Cancer Day. For the occasion, she has opted for one of the winning combos that she turns to when she wants to make an impact with her look: options in red and black with patterns that highlight her figure.
She has done it with a knitted dress Mango (available on their website for €29.99) with a straight cut that fitted her silhouette and had a round neck, long sleeves and a slightly flared hem. The model belongs to the Commited collection of sustainable garments, and it must not be forgotten that His Majesty always advocates for textile production that respects the environment.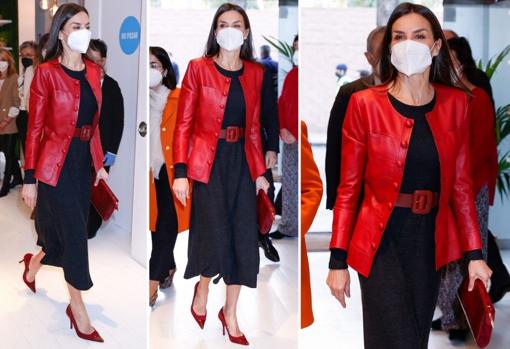 The key point of the dress is the versatility it presents when it comes to being combined with all kinds of accessories that give it one result or another, and in her case she has added red accessories, one of the essential colors in her wardrobe, with which It has empowered its image in addition to being very favored.
But if there has been a protagonist in his look, it has been the red leather jacket, a design that wore for the first time in 2017 on her 13th wedding anniversary with King Felipe VI, and with whom she has been seen three times. The piece belongs to the Resort collection of that same year of Carolina Herrera and it has a peplum silhouette, with a large ruffle at the waist while the sleeves are straight. The neck is round and closes with large XXL buttons covered in the same material.
He has finished the set with a wide belt with an XXL buckle from the Spanish firm Mohel. It is the Granatta model, whose price is currently reduced from 85 to 69 euros. There has been no shortage of suede pumps in the same tone that she wore for the first time a week ago at the Luis Carandell Awards, a light handbag from the same brand, the ring of Karen Hallam from which it is not separated and the Double Dagger earrings of diamonds and white gold of Gold & Roses.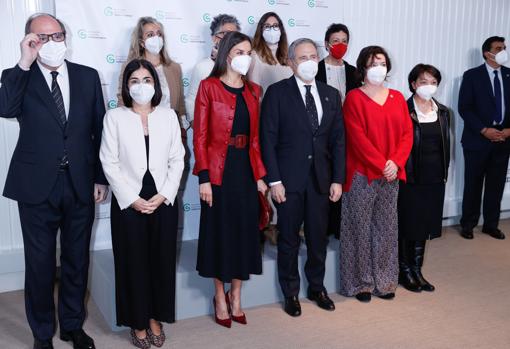 Her outfit today is one more example of her success when it comes to making the most of her wardrobe with new combinations that adapt to the trends of the moment.
See them
comments