Updated:
Keep

It seems that with the new year Doña Letizia continues with her philosophy of making the most of the royal dressing room, and that is that although she is aware of the latest trends, she advocates reusing the clothes in her wardrobe whenever she has the opportunity. If last week it was news for wearing a dress by Queen Sofía with more than 45 years of history, today the attention is drawn by the outfit chosen for the delivery of the Medal of Honor of the Royal Academy of Fine Arts of San Fernando to the Hispania Nostra Association.
Her Majesty has blended in with the gray day with a style of a similar tone that is not the first time she has worn it. A two-piece set signed by Philip Varela, one of its top designers, made in cheviot and made up of a fitted jacket with slightly marked shoulders and a wide belt with a buckle lined in the same fabric and a midi skirt with pleats and mauve embroidered flowers.
a choice of New Look style with which it shows a very feminine silhouette that is enhanced thanks to the flight of the skirt and the cut that frames the waist with the jacket, which also exudes a certain vintage air.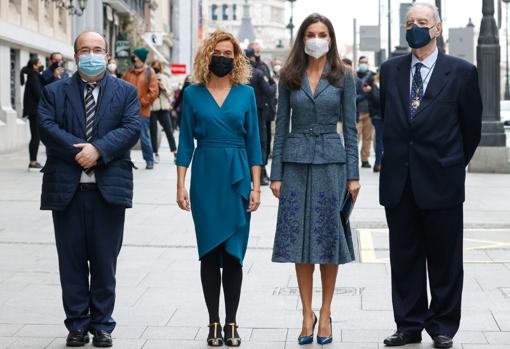 In order to give it a somewhat more contemporary touch, she has opted for cerulean blue and black pumps from Magrit, made of snakeskin, and a matching clutch from the same firm (specifically the Hawa model that is on sale for 240 euros) and some discreet gold rings. These accessories are not new either, and in fact he has worn them from time to time with this set.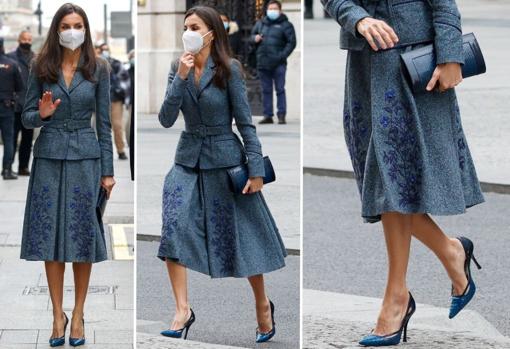 Returning to the suit, in view of the number of occasions he has worn it, it could be said that it is among his favourites, especially when looking for an elegant, formal result that enhances the silhouette without sacrificing comfort. She was seen with it for the first time on Columbus Day 2017 when she added a pearl and diamond brooch on her lapel and navy blue suede pumps, also by Magrit.
Just a month later, in november, wore it again at a work meeting and combined it with simple black stilettos. One year later, in april 2018 He wore it again at a reception for the President of Portugal and on that occasion he opted for the same accessories that he has worn today.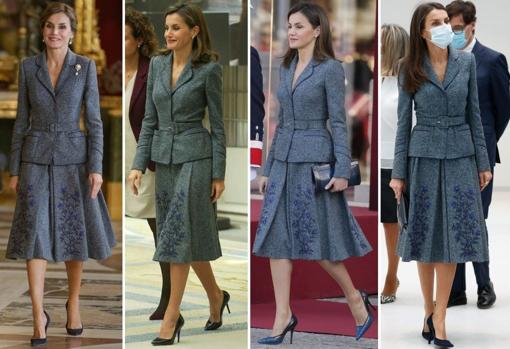 During his trip to Granada in december 2019 He also chose it, just as in his visit to the University Hospital of Toledo in November 2020. On those two occasions she combined it in the same way, with Magrit night blue suede heels and an envelope-type handbag from the same brand.
It is striking how at home one of the times that the chosen hairstyle and makeup has been worn have been key to making it look more or less informal, although always with a very sophisticated finish thanks to the accessories.
See them
comments