Updated:
Keep

For weeks fashion lovers have been anxiously waiting the Met Gala that, after two years without being held due to the pandemic, it would finally take place on September 13. On this occasion the capacity has been 50% and it has been divided into two parts -the second will take place in May- so one of the unknowns was the cast of guests and if there would be a Spanish presence. The clear 'nominee' to attend was Rosalía, who at no time confirmed if he would do it until, with a snapshot on Instagram, he was in charge of giving an answer.
Sitting in her limousine and on the way to the event, the Catalan posted an image of her look that barely a few hours accumulated almost a million 'likes'. As expected, the outfit has been the main protagonist of the photo. A detail that should be noted resides in the sequence of photos published, where in the last image you can see Lola Flores with a similar shawl, with which he confirmed that it has been his source of inspiration.
The theme of this edition was focused on reviewing the history of North American fashion, so the singer did not think twice and decided to go for her roots with a design inspired by a Manila shawl, a typically Spanish accessory that has represented our culture for decades. The justification for your look could be to show how this garment is conceived on the other side of the pond.
"It is a suit inspired by the Manila shawl, a garment that is very popular in Spain, a traditional piece that I adore," he explained to one of the reporters on the red carpet, Keke Palmer, while carefully showing his style. As he said, the person in charge of creation has been Rick Owens, her favorite American designer, who has managed to give her that modern and transgressive touch that permeates the artist's outfits.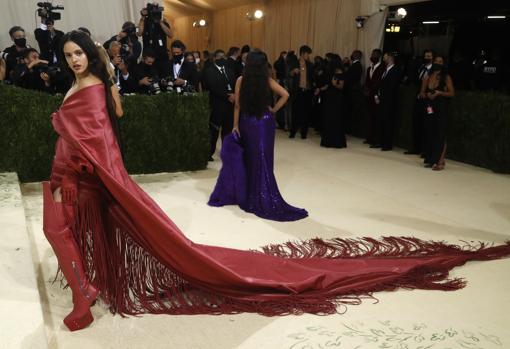 The burgundy design with a slightly satin finish, consisted of a jumpsuit with shorts where fringes were not missing and a pronounced V-neckline with a gathering in the center that simulated the effect that a shawl would have on top. The garment fell at the back with a large train topped by large fringes. The outfit was finished off with over-the-knee boots with a transparent platform and XXL gloves. In addition, Rosalía accompanied him with a very natural makeup and loose hair to give it a more flamenco air and give the garment all the prominence.
See them
comments