Updated:
Keep

Graffiti is one of the means of expression that define the 20th century. Although on some occasions it has been associated with vandalism, the truth is that, spray by spray, street art has established itself as an indispensable stamp of the streets of many cities, since the 70s in the ghettos of Philadelphia and New York. Until these days, those of Banksy, when it has established itself as an influential and global movement, present in museums.
The group Street Art Cities scours social networks to select the best works of urban art of each month, which has eventually led to a top 100 most popular graffiti in the world in 2021.
Voting is open until February 6 to choose the best of the year. In that 'battle' there are eighteen works made in Spain.
Two murals in La Bañeza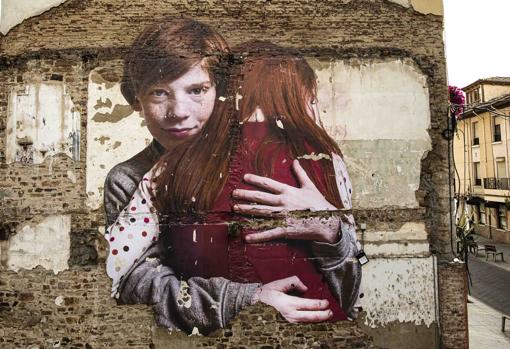 Among these outstanding works last year we find two murals in La Bañeza (León), both made during the International Festival of Art Aero Rap (ArtAeroRap). The first of them (above these lines) is signed by the Italian artist Bifido, who uses his photographs to stick them on walls that are normally in poor condition, as if he were decorating with the 'découpage' technique. "It's a hug, so it's something that can be shared," he explained on his Facebook. The second (below) is a creation of the Galician Socrates, born in Ordes (La Coruña), inspired "in the defense of freedom of expression".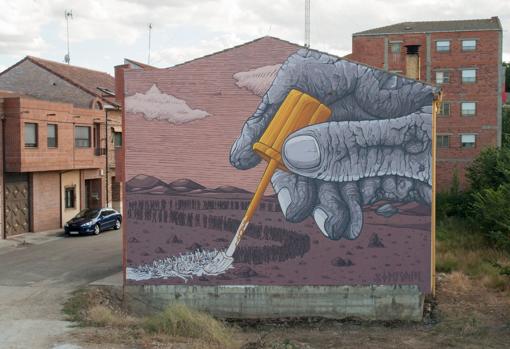 La Bañeza is a reference in urban art, as evidenced by these two works and many others that are concocted in the ArtAeroRap and that can be seen in this town.
The Marines, Huelva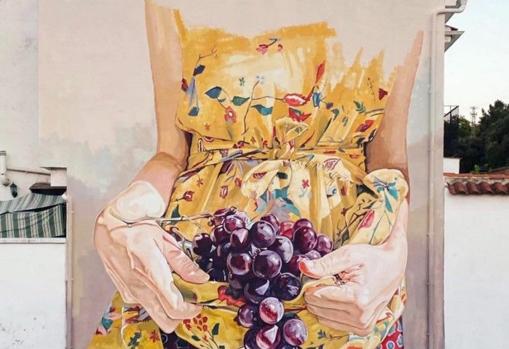 In the municipality of Los Marines, in Huelva, you can see another of the murals chosen among the hundred best of the year. Its authors are Cristian Blanxer (Barcelona, ​​1985), and Víctor García 'Repo', from Cornellás (Barcelona). Both collaborated in this way with the Inspira Territorio project, an initiative promoted by companies and individuals in the Sierra de Aracena that focuses on its agri-food wealth. The mural shows a woman with a bunch of grapes.
Sewer, Murcia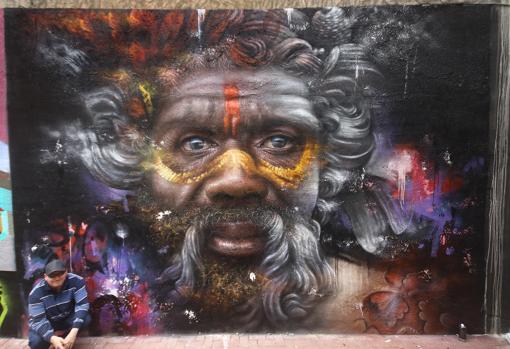 This work chosen by the Street Art Cities community is signed by the British artist Dale Grimshaw and was made during a festival organized by the Murcia Street Art Project. "It's been great, finally getting out of lockdown and traveling a bit. No nonsense, just nice music and a good atmosphere."
Lugo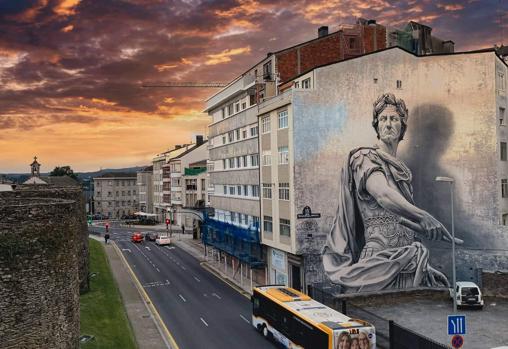 In the Ronda da Muralla, Lugo, we can see the best-known work of one of the most popular graffiti artists in Spain, Diego AS. It is a portrait of Julio Céasr, a nod to the city's Roman past, made for Arde Lucus 2021 and the Urban Cores fashion festival.
El Berron, Asturias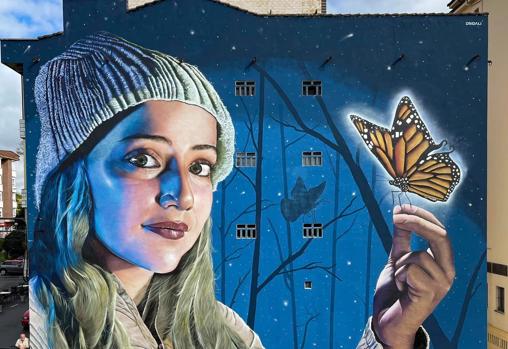 Last summer, the Asturian town of El Berrón inaugurated the mural 'Efecto Caparina', the work of the artist Adrián Mateo 'DriDali' (Valencia, 1995). As he explained at the time, he painted a girl holding a butterfly in her hand to vindicate "the distance between human beings and the natural environment."
Fuenlabrada, Madrid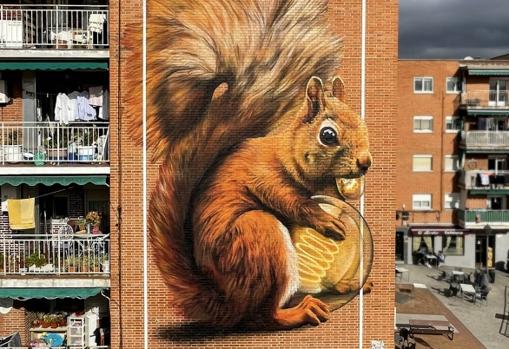 The mural 'Sustainable Energy', by Jesús Mateos Brea (Plasencia, 1982), is a metaphor for the loss of animal habitat that can be seen at the confluence of San Andrés and Leganés streets and is part of the Urban Art Museum of Fuenlabrada (MAUF). JM Brea, as he signs his work, is a graphic designer, urban artist and muralist who has been working in Cáceres since 2008, who on this occasion joined a project by the Fuenlabrada City Council, curated by the Tomás y Valiente Art Center (CEART) .
Alora, Malaga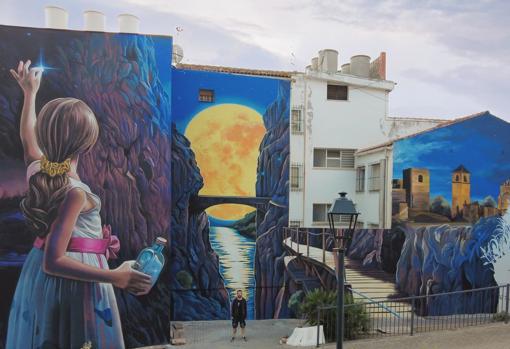 This mural by the urban artist from Malaga Lalone is another of the winners of the year. It is a dreamlike picture of the Caminito del Rey with its most emblematic symbols, as explained by the author on his Instagram account.
Aranda de Duero, Burgos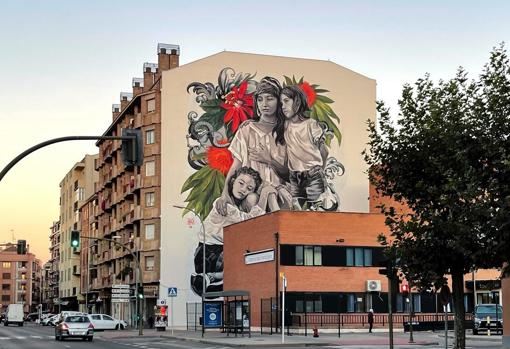 The Galician muralist and graphic designer Lula Goce signs this mural in Barrio Santa Catalina, in Aranda de Duero, which is also one of the hundred chosen by the Street Art Cities community. It is a tribute to those who suffer from breast cancer and their families.
Triacastela, Lugo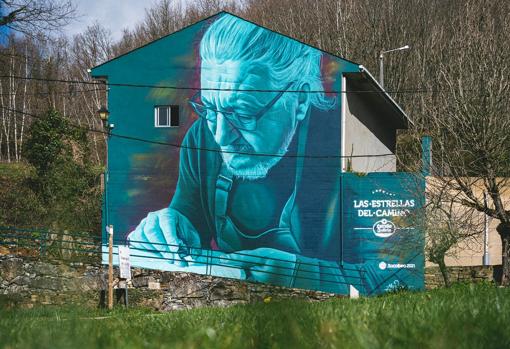 Estrella Galicia commissioned the Galician artist Mon Devane seven large murals to put a face to some of the true protagonists of the Jacobean route. The result is an open-air art gallery that can be seen on a 140 km stretch along the last seven stages of the Camino Frances. Among those portraits is that of Xermán Arias, a luthier from Sarria, in Triacastela.
Burjassot, Valencia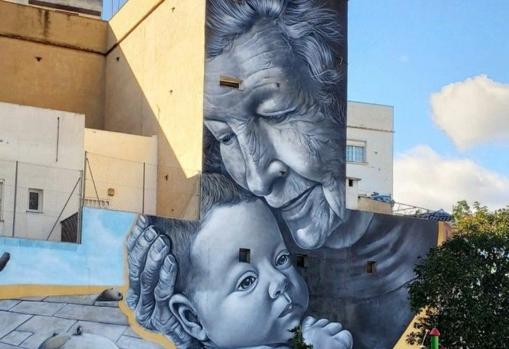 This 532 square meter mural located in the María Marzo park is signed by Mawe (Nacho Cano Mawe) and Xemayo (Xema González), two urban artists from Burjassot. It is a tribute to María, "a woman who for a long time helped take care of the children of Burjassot women who worked in the textile industry during their working hours," according to its authors.
Other murals in the top 100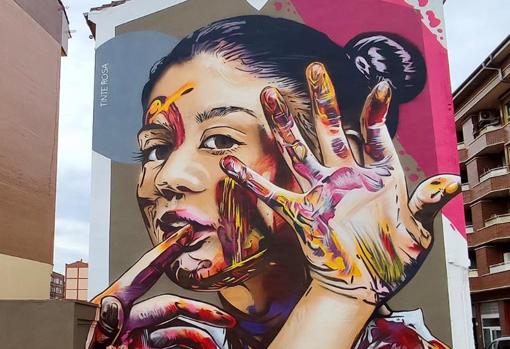 In addition to the eleven murals mentioned, in the top 100 that is submitted to the public vote until February 6, there are other Spanish options. In position 66, a satire of the monarchy signed by RocBlackblock, in Barcelona. In 1968, a work by the Cordovan artist Sake Ieneka in Cortes de la Frontera, Malaga. In 1982, a creation by Tardor Roselló located in Torrecremada Park, Denia. In 83 there is a mural of Esteban Espinosa (Tint3Rosa) in Miranda de Ebro, Burgos, «dedicated to all those artists who from a very young age, full of joy and enthusiasm, stained their hands with paint». Finally, at positions 98, 99 and 100 we see three murals by the Valencian Ángel Caballero Rioja, known as Xolaka, painted in Villanueva de San Juan, Seville, and Pola de Siero and Lugones, Asturias.
See them
comments