Pan's dishes
What of Barbara Pan de Soraluce It is an art by an artist who took years to unleash her talent. And today it can't cope. She started painting ceramics animated by her young daughter, who helps her with the social networks of her successful brand, Los Platos de Pan. She works only to order and there is a waiting list to get her original dishes decorated by hand, that the 'jet Madrid set 'treasures in their homes.
The businesswoman works in a workshop at home and is inspired by nature. Paint delicate flowers and branches, insects, fruits and vegetables with inspiring and elegant color combinations. "Sometimes I also paint birds and, as an exception, sometimes I give in to requests, but what comes naturally to me comes first," he explains. Already when he was studying Fine Arts, he opted for these subjects, and when he worked in restoration.
Each of his dishes is different, each plate is unique. «The ideal thing for me is to talk with who I am dealing with to choose colors, drawings and include or not certain details. Everything is very close », reveals.
Although she is a woman with a lot of style, and has been the creator of the Kausi scarves and masks that have triumphed among the famous during the pandemic, her thing is to go it alone, create and set a trend, not follow it. "I completely ignore fashions, I am guided exclusively by what I like, although I think that the awakening of life after the Covid may be asking for color," he adds.
Bárbara Pan de Soraluce feels, in herself, that urge to the return to life and color after the worst of the pandemic. "In fact, I just got a tableware of mimosas that I painted because it conveys a lot of joy," he confesses.
Azarraluqui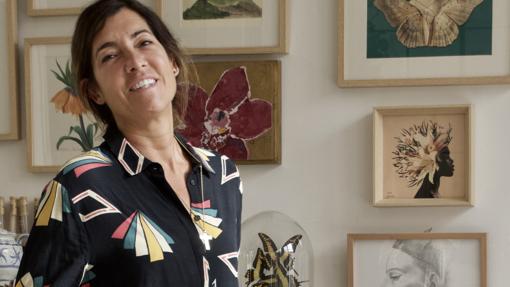 A Andrea Zarraluqui He always liked to paint, first on canvas and then on porcelain and ceramic objects. Ten years ago he left his job and what had been his professional career until then to launch himself into his passion, and there was no going back. Today it is one of the most recognized in Spain and its hand-decorated tableware, with beautiful and colorful animals, fish and botanical motifs, dresses the most select tables in the country.
Works to order. "This allows me to adapt my designs to the needs of my clients, although many times they ask me for things that they see as is on my Instagram account, where I showed both pieces that I am delivering and new designs that I am making", reveals this artist born in London although raised in Jerez de la Frontera.
As for the trends for the table this autumn-winter season, Zarraluqui highlights everything natural. "Outside the plastic and welcome the fibers", celebrates.
His latest creation is bamboo plates, which add to this general preference for sustainable and natural materials. "They are also timeless and very combinable with the crockery you already have, and being custom-made you can choose the color," he explains.
It has also aimed to recycle pieces by adding a drawing if it is smooth, or a finish in color or gold if it already has motifs. "It's a way of give the dishes a second life, something that I like a lot ", affirms Zarraluqui, who in addition to these pieces paints lamps and even murals.
Iuka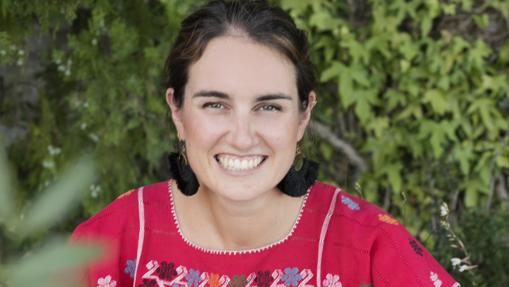 The model in Iuka Is mixed. This firm combines its own design with the realization at the hands of the best potters in Spain. "At Iuka we are committed to the recovery and enhancement of artisan work compared to the mass production of most current brands", explains its founder, Lorena Benzo.
"Since 2014 we have traveled throughout our geography looking for and visiting different artisans who can make our collections, always respecting and adapting to each one's own style", he adds.
In this way, all his pieces are made completely by hand, so they are irregular and unique. Although Iuka mainly has tableware, in its online store there are other decorative objects, all of them linked by the idea of ​​"surrounding yourself with beautiful and unique pieces, with a style that combines the rustic with the eclectic and delicate."
The brand also has an environmental objective, since it considers the return to ceramics «as a tool to reduce the use of plastic and, as a consequence, its environmental impact ", says Benzo.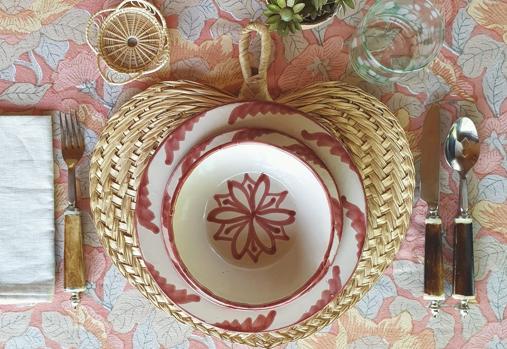 As for current trends, he agrees that "the mixture of colors and patterns, as well as natural materials: wood, wicker, antler, bamboo predominate. Everything handmade, what is made by hand, takes on a lot of strength and importance And highlighting it on the table is essential: an embroidered tablecloth, hand-painted crockery or glassware, or a handmade ceramic vase. The flowers and candles creating still lifes in the center of the table are essential for a staging ten ».
Molecot
Friends since childhood and now members, María José González Moro, Marta Cotoner and Juqui Suárez de Lezo threw Molecot after sharing a porcelain painting course during their maternity leave and verifying that the three of them were good at this activity and liked it, although they came from three completely different worlds (banking, interior architecture and law, respectively). Family and friends began to order them and there to professionalize it there was only one step.
Molecot began by offering hand-painted tableware, made from the best white porcelain from limoges. This is a luxury product, for its handmade and personalized preparation but also for its qualities and finishes, as they are topped with 22 karat gold. "We started by painting everything by hand, with a very close and exclusive treatment with the client, with our designs, but we advise them and design made-to-measure tableware, with their initials and colors that the client likes the most and adapts to him."
Given the success of the company, its three founders decided to also launch a complementary line manufactured, which in return is dishwasher safe and is better suited to daily use. He also has his own designs on French porcelain but allowed them to grow and become part of luxury online sales platforms.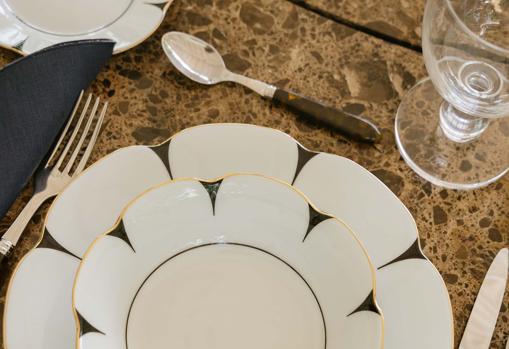 For this season, the Molecot members propose to opt for one of their most elegant tableware, from the Drops collection, "in the shape of flower petals, in black and white and finished with a gold edge. It's perfect because never goes out of style and combines very well with any tablecloth, or in this case without a tablecloth, on a marble table ».
Dinnerware by Nuria Blanco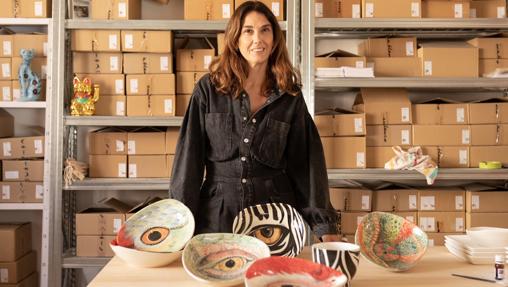 Nuria Blanco He studied Fine Arts and always knew that it was his thing. After dedicating herself to drawing, engraving and photography, she has been dedicated to ceramics for a few years with her brand, Dinnerware by Nuria Blanco. For her, clay is the essential material and she touches different techniques such as modeling, pottery, porcelain with paper and the molds with which she experiments with vessels and produces wonderful dishes with animals, abstract stains, hungry mouths, cacti and words.
To its pieces he transfers his drawings as if they were canvases, "Creating everyday objects both to use on a daily basis and to make decorative murals", explains the artist. They are, therefore, all unique products, made by hand, that propose a puzzle or composition game.
"My tableware is found in restaurants around the world and I have managed to create a unique and recognizable style where the pieces become artistic pieces," he adds.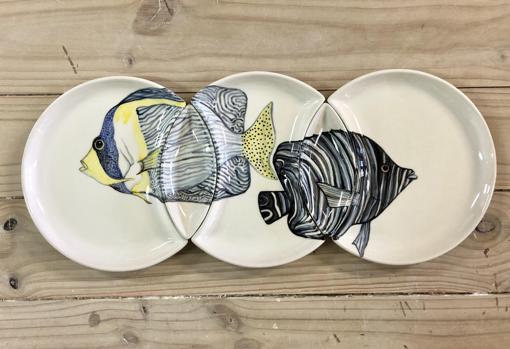 The Madrilenian ceramist also offers the possibility of personalizing her tableware to the taste of each client. He defines it as "I put the art, you design." This initiative, which is managed from its website, arose during the pandemic, in which we lived "a moment to rethink the magic of the domestic scene and to give the objects that surround us the value they deserve. Personal creativity is imposed in all areas of this new reality, "he explains.
She adds that "now not only do people value handmade much more, but they are enthusiastic about learning and making their own pieces themselves, there are a lot of ceramic schools and I am teaching courses myself. All of this comes from the need to create and do things outside of the daily routine due to confinement and spending more time at home. We value everyday objects more and surround ourselves with things with a soul. The kitchen boom has also had a lot to do with it ».
Net Ceramics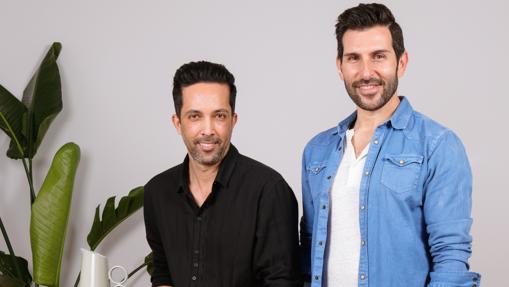 Neto Cerámicas puts the note in the selection and sale of handmade and unique objects. This online store was born with the idea of ​​grouping and sharing all those beautiful and unique pieces that the Portuguese Adriano dos Santos Neto and the Bilbao Jonatan Marble They saw you on your travels and shopping and wanted to take you home. With many of them they did, and such was the interest they aroused in their private events that they decided to turn their passion into their work.
On its new website you will find, above all, retro or geometric tableware, with pure lines and neutral colors. There are crockery and individual pieces, as well as other decoration elements, wooden boards and candles. All united by their love for what they like to call 'rural glam', a style around 'neutral colors, natural materials, rustic furniture with special details. It is rustic, in some cases even crude; but it has details and is made with care. The air that surrounds it is fine, elegant, but also comfortable and without any more pretense than to show its primary entity ».
Those responsible for Neto Cerámicas flee from the flashy and exaggerated, and instead are inspired by "the sea, the summer, the wheat fields, the traditional Portuguese tiles, the colors of the Castilian lands and the traditional hand-made tableware." On that side, they also see the trends for this autumn-winter, which "looks to the interior, but to the interior of the peninsula."
So this season, "the clay tones turn earthy and the colors fade to inspire a clay-colored and white-glazed autumn. The stove is the epicenter in which the stimuli that we have prepared for this season are cooked. The ceramics of our grandparents' house are the maximum reference to bring together the visual proposals that we have for the season.
Artemesa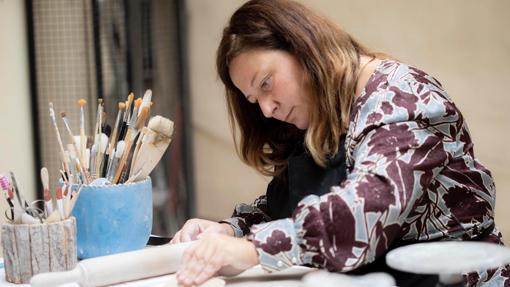 The proposal of Artemesa it is, to begin with, original. This brand offers its customers to design their own handmade tableware with their help. Behind this new brand is an artist and former mathematician, Clara Granados, who decided to embark on an adventure and join this trend of artisan and original ceramics with this idea.
At Artemesa, no piece is the same as another, because they are 'co-created' by the brand and the person who acquires it. The web offers a series of collections, inspired above all by nature, from which to work as a starting point. "The client will be able to choose the shape of his piece, the size, the color, the drawing … and whatever he wants, to feel like a ceramicist without being one", explains Granados.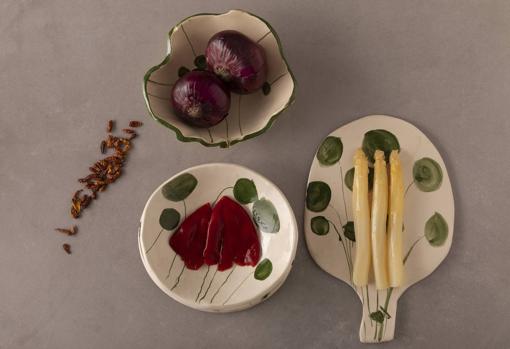 The entrepreneur uses stoneware and porcelain, which once baked are decorated with pigments and enamels and subjected to heat again to fix the colors and patterns. For her, a good table combines handmade and colorful pieces with other basic ones or with small details. Although "the Japanese style is also a trend this season, which stands out for its simplicity, dark colors and table pieces with different shapes."