Updated:
Keep

From Nerja to Manilva there are about 160 km, with an infinity of places very frequented by tourists from Spain and the world and with some little secrets that are worth discovering. In these lines we review ten proposals to express a vacation on the coast of Malaga.
Roman baths on the beachfront
In Guadalmina Baja, on the beachfront of San Pedro AlcantaraThe presence of Roman baths from the 2nd century is surprising in an area dominated by the most elegant villas in this district of Marbella. The octagonal building, which is accessed by a narrow path between several buildings, maintains a magnificent state of conservation since until the eighties it was part of the garden of a private property. Its owners used it as a concert hall and disco, until the City Council took over this land and currently a team of archaeologists led by Miguel Vila is working on the research and restoration of this complex. It is believed that it may have belonged to the Roman villa of Cilniana. The complex is open from Thursday to Sunday between 9 a.m. and 11 a.m. and admission is free.
One of skewered sardines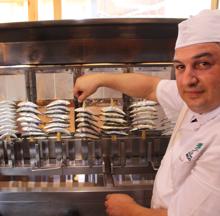 'Nuevo Reino' is one of the classic restaurants in San Pedro Alcántara and is famous for its salted fish and especially for its skewered sardines. José Romero, its owner, in some cases allows the clients themselves to stick the sardines in a cane so that they can later be prepared on an original barbecue that he patented in 2000, avoiding smoke and odors. So the fish tastes like fish only with the only seasoning of salt. Inf: https://www.nuevoreino.com/
Nautical passport in the port of Marbella
Since this year, the Virgen del Carmen Marina in Marbella proposes a nautical passport so that residents and visitors can enjoy a dozen nautical activities at greatly reduced prices. Among them, jet skis, 'flyboard', 'parasailing', 'paddle surf', 'jetboat' or boats without a license. Inf: https://puertodeportivo.marbella.es/
Urban and beach chiringuitos
The popular chef Dani García already exceeds ten restaurants in Spain, but Lobito de Mar continues to triumph in Marbella as an urban beach bar and bar with its two menus and different gastronomic offers. Dani is now preparing the jump to New York and Doha, his next two projects. Closer to the beach, La Milla stands out for its careful proposal of local produce from the Andalusian coasts. You will find it between the Hotel Marbella Club and Puente Romano.
A Swedish residence turned fashion club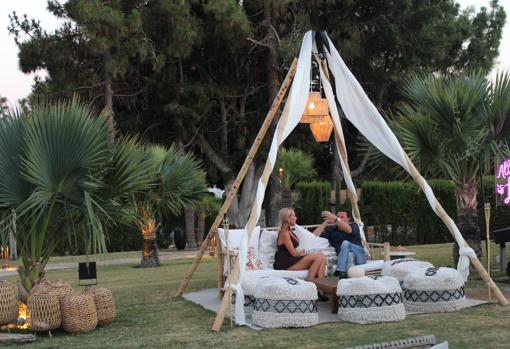 It opened a little before the pandemic, which meant a halt in its Marbella leisure commitment, but now Boho Club has become one of the most 'trendy' places in the city. Costa del Sol. Located in the heart of Marbella's golden mile, this complex was a former residence for forest workers that the Swedish government had in this town and was converted into an elegant luxury hotel where you can now also have lunch or dinner with the management of Diego del Río, recognized with a Michelin star at El Lago restaurant. Outside, there is an immense and well-kept garden with a swimming pool, high and low tables, sculptures, terrace furniture that make up a very chic atmosphere. A 'dj' enlivens the atmosphere of this space at night. Inf: https://bohoclub.com/
Two stately homes converted into luxury hotels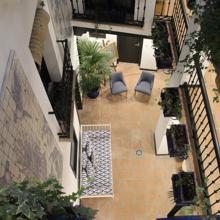 To the very wide hotel offer in Marbella Now we must add a daring and very original proposal in the beautiful old part of the town that allows you to be closer to its cobbled streets, the wall, the craft shops or the Plaza de los Naranjos. These are two charming new hotels erected in a pair of sumptuous stately homes around Calle Ancha, Maison Ardois and Hotel Santo Cristo, combining 19th and early 20th century Andalusian stately architecture with modern, sophisticated and contemporary décor. the highest quality. Inf: http://laciudadelamarbella.com/es
Isabel la Católica and Cervantes, present in Vélez-Málaga
As evening falls in Vélez-Málaga, the capital of La Axarquía, some characters from the past come to life in an evening of fantasy and magic that allows us to discover this destination in a very original way. Queens (Isabel la Católica), ladies, Moors, ghosts, bishops or writers (Miguel de Cervantes) open churches and palaces full of interesting stories and charming legends. The experience of these dramatized visits, which are organized on Saturday nights, includes an aperitif with a tasting of local wine and sweets. Inf: www.lacasadelastitas.com
Design esparto and mosaics in Frigiliana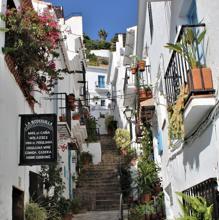 Frigiliana, 7 kilometers from Nerja, happens to be the most charming town in this area, in the Sierras Almijara, Tejeda and Alhama Natural Park. Strolling through its narrow and steep streets that lead to Barribarto, the upper neighborhood that served as a refuge for the last Moors who inhabited this town, you can understand the reason for its success on the Malaga coast. Today the whole complex is full of artisan workshops and shops, where you can buy modern design items in esparto -such as in El Rincón del Esparto, in Lourdes Bueno-, mosaics in the Puri workshop or the typical products of the region such as avocado. or the handle. Do not miss the Church of San Antonio de Padua, from 1676, and its charming little square full of terraces, the Reales Positos, where surplus grain was stored, the Old Fountain and its viewpoint, at the end of the Cuesta del Apero, with an excellent view towards the sea.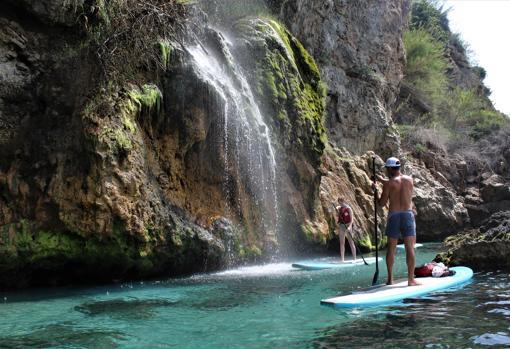 Cliffs of Maro, 80 meter walls facing the sea
From the municipality of Nerja to the border with the province of Granada in Almuñécar extends the Maro-Cerro Gordo Cliffs Natural Area, a prodigious natural park with viewpoints that allow you to observe this beautiful Malaga coastline and even on clear days the coast of Africa. The entire area, which occupies an area of ​​395 hectares and a marine strip of one mile out to sea, is dotted with beautiful beaches and secluded coves with difficult access along a strip of about 12 kilometers, where you can see several towers lookout built in the sixteenth century to prevent pirate attacks of the time. In this natural setting there are steep and spectacular cliffs, which exceed 80 meters in height and drop precipitously to a depth of 20 meters. Small coves are interspersed between them, the result of erosion and marine regression on the last foothills of the Sierra Almijara that enter the Mediterranean. One of them, La Caleta de Maro, was the 'small cove', the real setting for the games and adventures of the 'Verano Azul' gang, the TVE series that was filmed in Nerja 40 years ago.
A freshwater waterfall that falls directly into the sea
From the beach of the Caleta de Maro It is accessed by water to a waterfall that plunges from 15 meters, through which the Sanguino torrent, also known as the Campillo river, runs to the Mediterranean. The view up the waterfall from the turquoise blue waters of the sea impresses with its beauty. It is possible to approach it by kayak, canoe or 'paddle surf'. Some bathers take advantage of the transparent waters to practice snorkeling and others 'shower' under the waterfall whenever the flow allows it. In spring it is not very advisable, since the flow of water is much more important and entails greater danger.
From the top of the cliffs it is not easy to photograph this waterfall that comes from the caves of Nerja. Only some climbing enthusiasts get it. You can hire a kayak tour from Burriana beach in Nerja that lasts 2.5 hours to also enjoy bathing. Educare Aventura (www.educare-aventura.com) organizes it for 20 euros. More: www.visitacostadelsol.com
See them
comments