Ten of the best beaches in Spain to maintain social distancing
1. Beaches of Doñana, Huelva

One of the widest virgin coasts in Europe, with about 35 km between Matalascañas and the Guadalquivir, in the province of Huelva. It is one of the largest in Spain, although it is constantly changing due to the tides. The waves are usually moderate, it has vegetation behind the beach and its coastline is made up of dunes. The low influx of tourists is due to its position away from urbanized areas and the difficulty of access on foot.
2. Castilla Beach, Huelva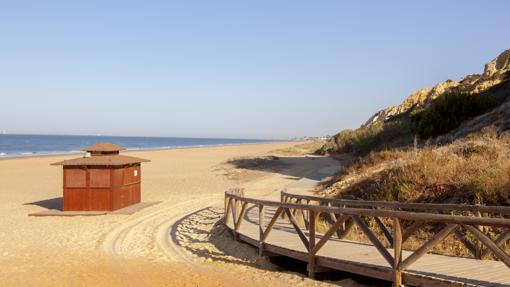 Playa de Castilla is the name of the coastline of almost 30 kilometers that stretches between Mazagón and Matalascañas, where places such as Arenosillo, Rompeculos, Asperillo or Mata el Difunto are distinguished. Its width can reach up to 70 meters, although its variability is high. The swell is usually moderate and the high tide can reach the cliff. It is a virgin beach without services for most of its length, whose accesses, although marked and equipped with walkways and stairs, can be complicated in some places.
3. Cofete Beach, Fuerteventura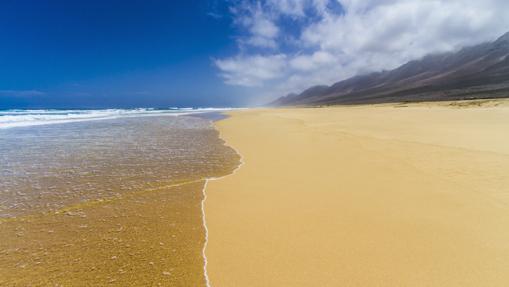 To get to the vast beach of Cofete – it exceeds 12 kilometers – drive from the town of Morro Jable through the rugged Jandía peninsula that ends in the southern part of Majorera. Wild and mysterious, in its lonely sands dotted with volcanic footprints it preserves one of the most picturesque cemeteries on the island.
4. Nueva Umbría Beach, Huelva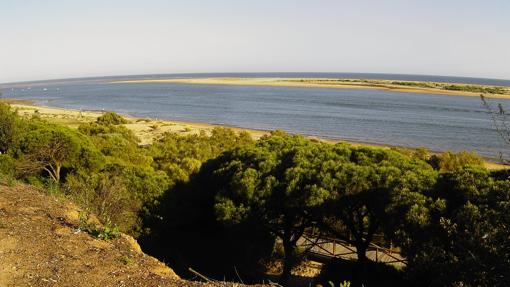 This beach in Huelva stretches for 12 kilometers through the Marismas del Piedras and Flecha de El Rompido Natural Area. It has little infrastructure, but it is frequented by tourists in a usual way. It has parking for the car and walkways to the sand. There are also boats that cross to an area with rental of hammocks, umbrellas and beach bars. In addition, it has an area for nudism that has led it to be chosen as one of the best nudist beaches in Spain.
5. Punta Entinas-Sabinar beach, Almería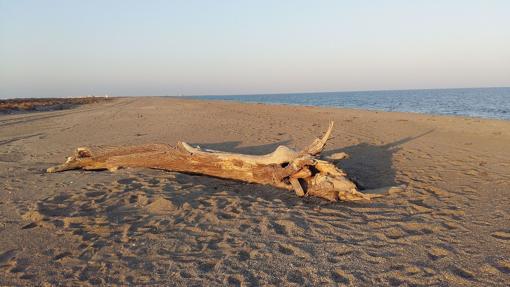 Very quiet beach located in the protected environment of Punta Entinas Sabinar, located between the municipalities of El Ejido and Roquetas de Mar (Almeria), in an area devoid of any type of construction. With dark sand and easy access on foot, the beach is 6.5 kilometers long and about 80 meters wide.
6. Roberta Beach, Barcelona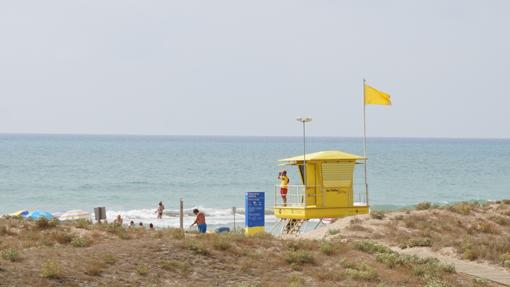 Also known as Protegida sector I, it is a wide beach with low influx, formed mainly by sand and characterized by its dark golden color. It is located after the El Prat airport. in an area with calm waters, but strong waves. Access to the beach is easy both on foot and by car. In the same area of ​​Platja del Prat are Playa del Remolar, Can Camins, Naturista and La Ricarda – Ca l'Arana.
7. Castilnovo Beach, Cádiz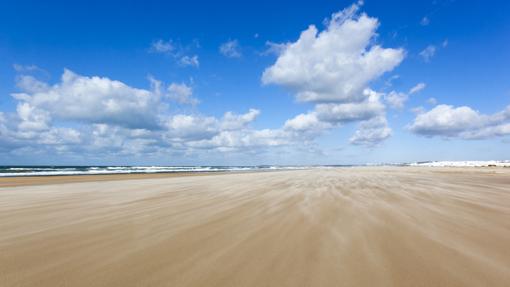 Castilnovo Beach is a virgin beach, with a wild aspect, where the waves and the wind have a great force for the practice of windsurfing. It is close to Conil de la Frontera and is characterized by its fine golden sand, as well as its clean waters and a smooth shore without steps. Getting to the beach is simple, but requires walking long distances, either from El Palmar or from Conil.
8. Espigón Beach, Huelva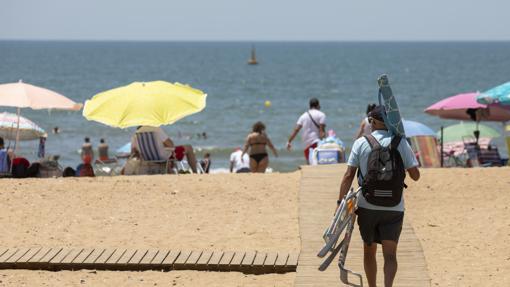 Beach supported by the Juan Carlos I dam in the port of Huelva. It is integrated, with its 3 kilometers of fine and golden sand, in the Marismas del Odiel Natural Area. Its waters are especially calm and crystal clear, which together with the moderate waves makes it a perfect place for swimming.
9. Playa de Barra, Ponteceso-La Coruña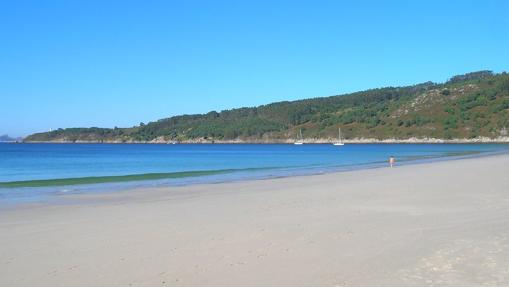 Set of dunes almost two kilometers long and four hundred meters wide; the sand of the dunes rises up the slopes of Monte Branco to Alto de as Travesas, from where there is an exquisite panoramic view of Ponteceso, Cabana and the Corme and Laxe estuaries.
Between the Dunas de la Barra and next to Monte Branco there is a path through which a hiking route runs from Ponteceso to the A Barra beach, Balarés beach, and which ends at Pedra da Serpe in Corme. (Source: Concello de Ponteceso)
10. Las Amoladeras Beach, Almería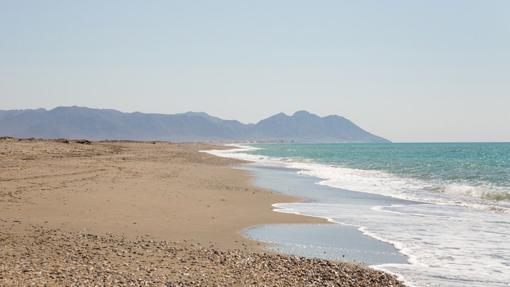 This beach, with its more than 3 and a half kilometers in length, is located within the limits of the Cabo de Gata-Níjar Natural Park (Almería), so it is protected, possibly the extension of the virgin coast of Cabo de Largest cat in the Natural Park. It has recently been declared a Biosphere Reserve, and is characterized by its dark sand and gravel and its moderate swell, in addition to being a particularly windy area. At the end near Torre García are the Roman remains of an old Salazón factory.
At the Las Amoladeras Interpretation Center we can learn about the ins and outs of the Cabo de Gata-Níjar Natural Park, its volcanic origin. The center is located on the road that leads from the Retamar neighborhood to the Cabo, just before reaching the intersection with San José.