The aesthetic repair of carcinoma of the nose, the «cancer of the sun»
Madrid
Updated:
save

After a time absent from the cameras of Antena 3, Monica Carrillo (44 years old) has once again been at the forefront of the news together with Matías Prats, but not before publicly confessing that he had been facing the fight against skin cancer. Far from hiding the disease, the presenter has had the courage to publish the images of her face without filters or retouching, showing the scar that runs through her nose from the removal of a basal cell carcinoma (or epithelioma). According to the presenter, it all started with a wound that seemed to never heal. Alarmed, after confinement, she went to her dermatologist who confirmed that she had the most common form of skin tumor (in Spain more than 74,000 cases of non-melanoma skin cancer are diagnosed annually), of which excess sun is the main responsible. And he has wanted to share it on his networks to encourage photoprotection and reviews. "I firmly believe that we are everything that has brought us here. From now on, this scratch on my face will accompany me. We are getting used to it and I think we even like each other ». And it ended, "Take care, go to check-up and protect yourself from the sun."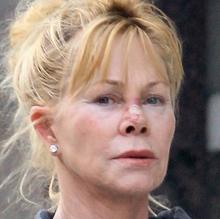 But Carrillo is not the only familiar face that has used his influence in the media to act as a speaker for the ravages of this disease. In 2009, Melanie Griffith She had to be operated on for a carcinoma, and in February 2018 she underwent a second operation to remove more cancer basal cells, and she also communicated it to her fans to raise awareness about the dangers of sun exposure. "If any of you have it, heal it. If you sunbathe, a lot of sun, protect yourself. Use sunscreen ", read on his Instagram wall in August 2018. Likewise, actor Hugh Jackman has undergone six interventions for his epithelioma of the nose, the last in February 2017, and shared it with his followers with a resounding hashtag, # PonteProtecciónSolar. Jane Fonda He was seen in January 2018 promoting the fourth season of the series "Grace and Frankie" with a small bandage over his mouth and acknowledged that a tumor had been removed.
The good news is that, although the incidence of dermatological tumors has doubled in the last 30 years, most have a very good prognosis if detected early. Dr. Miguel Sánchez Viera, director of the Institute of Integral Dermatology, advises that the vast majority of us associate skin cancers with a mole that grows or changes shape, the most common symptoms in melanomas, but you have to know that Basal cell carcinomas (reddish plaques with or without scaling, persistent small ulcers, scars that increase in size, or pearly nodules associated with chronic sun exposure) are much more common, although their ability to metastasize is lower. "But if the symptoms are known and if these precautionary measures are taken, almost 100% of cases have definitive treatment," says Sánchez Viera. Dr. Angela Hermosa, a dermatologist at the Femm Clinic, points out that the return from vacation is the best time to have our skin checked, since passing by the beach has caused injuries.
See them
comments