Updated:
Keep

Fashion can be experienced with all five senses: it can be seen, touched, smelled, heard and even tasted. And nothing better to feel all those sensations at the same time than reading a book that transports us and makes us dream.
In this Day of the book fashion on paper takes center stage, and for all those who want to pay tribute this day, the most desired books in the sector are compiled.
Fashion narratives
Editorial Superflua defines itself as "a singular publisher focused on fashion narratives." A personal project of Martin Torres (editor) and Pau Masaló (art) that in less than four years and with an exquisite catalog of ten publications has undoubtedly become an obligatory editorial reference with also unbeatable prices.
Its first release in 2018, 'Saint Laurent, chico malo', written by the French journalist Marie-Dominique Lelièvre undresses "the myth of the great tormented designer" and is, together with 'Gods and kings. Rise and Fall of Alexander McQueen and John Galliano ' (2018) by Dana Thomas, the two best-selling books so far.
Then would come works like 'A career in fashion' (2019), the posthumous memoirs of photographer Bill Cunningham known for being the inventor of street style after dedicating himself to headgear in his youth; 'Obsession Alaïa' (2019), the portrait of the Tunisian-born couturier by French fashion journalist Laurence Benaïm that reveals little-known facts about the dressmaker, such as having made one of Yves Saint Laurent's Mondrian dresses; or 'Fashionopolis. The price of fast fashion and the future of clothing ' (2019) by Dana Thomas.
The perfume industry, so closely linked to fashion, is the subject of three other of its titles: 'The perfect perfume' (2018) by Chandler Burr; 'The No. 5 of Chanel' (2020) by Marie-Dominique Lelièvre, which demystifies one of the most famous perfumes in history that celebrates its centenary this year; and about to hit the market 'Counter perfume' (2021) by Daniel Figuero.
The first of them is for Martín Torres the most complicated title they have edited because "it presented the complexity of correctly translating many organic chemistry terms into Spanish, and it was not always easy to find the solution. In the end we gave the text to a doctor in chemistry from the UPC to supervise the technical terms. And then there are the books that have a section on references and an index of names, which usually involve a lot, but a lot, extra work ".
Other milestones of the publisher have been the publication for the first time in Spain of the memoirs of Diana Vreeland, 'D.V.' (2020), one of the most influential personalities in fashion history, and 'In the trenches of fashion' (2021), the fascinating memoirs of André Leon Talley who, as Diana Vreeland's assistant, made his leap into fashion journalism hand in hand, no less, than Andy Warhol's Interview.
The editor Martín Torres affirms that he would like "to find books that treat the 'archives' of fashion houses as autonomous objects. I think there must be fascinating archives that contain good stories. '
Fashion at the Thyssen
The Thyssen-Bornemisza Museum presented in 2014 its first exhibition dedicated to fashion with the great retrospective of the French couturier 'Hubert de Givenchy', whose catalog is currently out of stock after more than 5,000 copies have been sold. Then other exhibitions would arrive such as: 'Sonia Delaunay, art, design and fashion' (2017), where, in addition to his paintings, fashion and textile designs as well as his collaborations with poets and set designers, or the exhibition dedicated to 'Sorolla and fashion' (2018) with 70 paintings along with accessories and dresses of the time.
In 2019 the exhibition 'Balenciaga and Spanish painting', the first dedicated in Madrid to the master from Getaria in almost half a century, brought art and fashion together again in a dialogue of 90 pieces of clothing with 55 masterpieces of Spanish painting. More than 8,000 copies of the catalog have already been sold. An exceptional way, without a doubt, to get to know the great Balenciaga better, who only granted two unique interviews in his life: one in 1968 to Paris Match, and another in 1971 to the Times.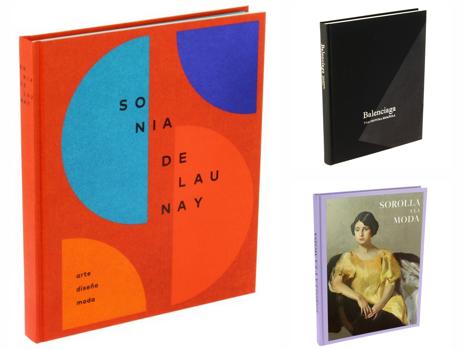 To celebrate Book Day, the Thyssen-Bornemisza National Museum store offers this day a 10% discount, and it will also put several of its publications at a liquidation balance price until stocks last.
Practical guide on sustainability
Many books have been written on sustainability and clothing, but hardly on footwear, despite being responsible for a fifth of the environmental impact of the fashion industry according to experts. After working in the marketing department of footwear companies in Alicante and training in the subject of sustainability, the consultant and trainer Inma Peñate decided to publish the book 'Sustainable footwear: practical guide for professionals who want to change the world of fashion' (2020).
For Peñate, sustainability is associated only with the environmental issue, but it has four axes or agendas: social, economic, environmental and cultural – which involves changing consumer habits. It has created its own sustainable footwear index with which it evaluates the entire life cycle of footwear in its audits.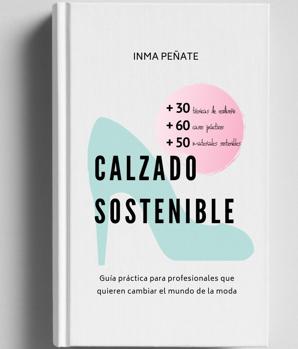 The key to the sustainability of footwear starts, for the author, by the design of the product, for which it is essential to know all ecodesign techniques, the impact of each of the most eco-efficient fabrics and new materials: "A shoe can carry up to 75 different components and thus it will be impossible to recycle it and go to landfill. If you have 2 or 3 components it is easier to disassemble and it is possible to introduce it back into the chain, circular economy, or recycle it ».
The greatest impact is materials, such as hides: «many are tanned in Asian countries where factory safety measures are not controlled and are tanned with Chromium (III) which is a chemical that volatilizes and if it is not controlled it will It converts to Chromium (VI) which is very toxic to the people who work there. In addition, then it is not filtered, it goes into the water and pollutes the rivers and ends up in the food chain ", denounces Inma Peñate who advocates sustainable materials such as apple skin, pineapple, mushrooms or grapes, and natural materials from the environment that are recycled , like cork, which also reverts to planting more trees.
See them
comments