The controversial padding in the bikini of a 7-year-old girl and the consequences for childhood
Updated:
Keep

Just a few days ago, a tweet from a mother who published her amazement, and above all outrage, at the gift they had given her seven-year-old daughter went viral on social networks. It was a bikini, so far everything was perfect, but the upper part had padding to enhance the chest, being a size for girls of 5-6 years.
His comment quickly received 3,000 likes on Twitter and opened the debate, not only about whether younger girls should wear a top or not when they bathe in the beach or pool, but also about the convenience or not of wearing padding at these ages in the that her bust has not yet developed.
They have given this top to my daughter
Size 5-6
Yes, you are seeing well, it has filling 😳 pic.twitter.com/7AJH1ygTnN

— Ana (@comodequince) June 9, 2021
For many, padding at such an early age is a way for minors to focus on this issue and, from their earliest childhood, worry about aesthetic aspects and wanting to emulate having more breast than they have, which, according to the experts, it is a way to advance stages towards adulthood and create a concern that does not correspond to them in a tendency towards hypersexualization of childhood.
The FACUA-Consumidores en Acción organization recently joined these viral complaints when requesting the withdrawal of these PatPat brand bikinis for girls with padding in the chest area. They consider it to be one more attempt to "objectify women from an early age and eroticize childhood, which damages the well-being of the little ones and has negative consequences for self-esteem."
It defends that the sexualization of girls' clothing supposes an "exaggerated incorporation" of gender stereotypes and of "a single image of femininity that, if present from childhood, is imposed and forced", with the consequent psychological impact on women. girls and adolescents, who, according to Facua, could develop a "dissatisfaction" with their body from an early age, which can lead to behaviors that are harmful to them.
And it is that, 73% of Spaniards consider that in Spain there is a tendency towards adultization of childhood and that this can lead to serious problems for children in their future. At least this is also what emerges from a study presented today by the Multiópticas Foundation, which has launched the initiative "What do you want to be as a child?", An action to raise awareness about the consequences of this adultization with the aim of defending the right of all children to fully live their childhood.
As Salomé Suárez, director of the Multiópticas Foundation, explains to ABC, this initiative arises as the starting signal for the new strategy that they will carry out from the foundation 'Protecting the looks of the future', coinciding precisely with the 15th anniversary of this organization. «The objective is to take care of and preserve the looks of our children providing them with an education in values ​​to be able to build a better future together. In this way, this initiative consists of an awareness-raising action, through a spot that aims to make visible some of the consequences of this adultization and vindicate the importance of letting the little ones fully enjoy one of the most transcendental and wonderful stages of life. life".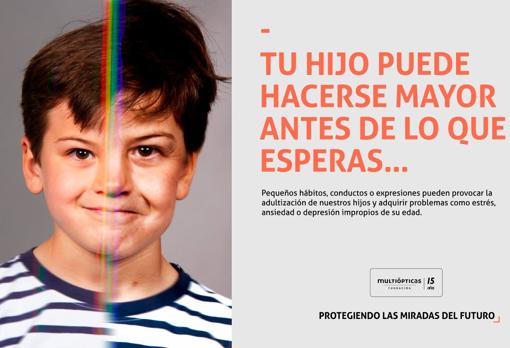 He assures that, in addition, they intend to do something tangible to contribute their grain of sand to penetrate society. «For this reason, we have created the solidarity book entitled 'What do I want to be as a child?'designed and illustrated by Patricia Metola. It is a story aimed at both children and adults through a double reading: one readable with the naked eye and the other visible only with the magic glasses that are included at the end of the book. The purpose of this is to make adults aware of behaviors that can accelerate the adultization of their children and remind children of the enjoyment of childhood and the importance of living in the present. In addition, the book has a solidarity purpose since the Multiópticas Foundation will donate the funds raised through its sale to the Soñar Despierto Foundation, in support of children living in foster homes.
According to Alicia Bandera, a psychologist who has participated in this campaign, adultization is the acceleration of the transition from childhood to adolescence or adulthood. «With this type of action, what exists is an eroticization of childhood, a form of adultization, it is hypersexualization, in this case of girls and it encourages them to adopt stereotyped roles that do not correspond to their age.
In his opinion, this process for which they are neither physically nor psychologically prepared is accelerating and, as a consequence, needs are created for them that are not due to their age; that is, they are adultized, and cognitive dissonances arise between what they are, what they have to be, what they have to aspire to … «It is not an expectation for them, they have to live according to their age to not be exposed to various risks. Which? If we hypersex them this way, we reduce its worth to its capacity for sexual attraction. If they adopt behaviors out of a very exaggerated interest in their physical appearance, which due to their age they should not adopt, then they are already we submit to social pressure that also influences the market. Now those girls are a target in which to create needs. For this reason, it is important to take care of them and respect them a lot.
He adds that these early concerns can lead to eating disorders and a tendency for them to focus on physical appearance as the main source of acceptance, reducing their worth to just a physique. As a result, your cognitive abilities or other opportunities that can develop your identity may be impaired.
"In addition," he explains to ABC, "it is a limitation in self-concept, in the way they see themselves and, therefore, in self-esteem problems, which may mean that they are exposed to harassment or sexual violence from people who want to look at other things through those girls.
What should parents do?
In Alicia Bandera's opinion, parents should not directly prohibit children from this type of behavior, unless it is excessive and puts them at risk, but they should set limits. «In the first place, it is essential to understand what motivates children to develop this type of behavior, and for this we must ask them why they like, for example, to dress in a way that is not according to their age, in order to understand where this behavior comes from ».
He explains that this behavior sometimes responds to his own need for acceptance and to value himself through the physical. And on other occasions it is because they are very exposed to the ideals of beauty promoted in media and social networks. "They want to be like the famous people they look up to (singers for example), something that has happened forever, but now it can be more real than ever by having a platform that makes it easier for them to display and access that world."
However, he clarifies that data from a recent study reflect that girls are sexualized are considered less intelligent, competent and capable on the part of the audience, than the rest of the non-sexualized girls. This can impoverish the image that society has of childhood and innocence and what they have to live at that age.
From the parents' point of view, this expert advises working on communication with minors to teach them not to understand success or acceptance based on these behaviors alone. "We must also review our education in values, to reinforce the self-esteem of the little ones and the models with which they identify. Children today leave their childhood earlier and that has an emotional impact on them, and it is the adults who must stop the acceleration of this process despite the fact that the line between adults and children is increasingly blurred. As children get older, we must set limits, and in some cases establish rules that can be agreed upon in a consensual way; and at the same time, do a reflection exercise to try to adaptively educate our children while preserving their innocence.
This psychologist influences that parents put limits on the violent and sexual content that their children access, since the screens are windows open to the world where any content is filtered, and that has a psychological and emotional impact what your brain is not yet ready for. "It is very important that we can establish parental control, digital education and supervision by parents, set limits and rules so that children do not access certain content. In fact, our children are already accessing information and knowledge about sexuality through porn, the pornization of sexuality, which has nothing to do with a healthy and valuable affective sexual education. In the event that they access them, that we can speak openly and that each father and mother can open channels of communication with their children.
See them
comments