The harrowing letter from a mother recounting her daughter's drowning in a swimming pool
MADRID
Updated:
Keep

Mercedes will never forget it. In 2012, her daughter suffered a terrible accident due to the drainage of a swimming pool and since then she has tried to make this event notorious and visible, so that no one else will go through the same thing again. Although, as this mother qualifies, "an accident is something that cannot be avoided and this could have been avoided, so for us it was a negligence on the part of the company that was in charge of the maintenance and supervision of the community pool" .
This is his letter, shared by those responsible for Segurbaby, who remember that this type of event occupies point eight of the decalogue of child safety in swimming pools that is part of their campaign #EyeLittleWater
against the drowning of minors in aquatic environments:
Hi, I'm Mercedes and I have a real story to tell you.
«My daughter almost died from drowning in the swimming pool of my urbanization. It was a place that we had known well for years and where we felt safe and that year more because my daughter had already learned to swim. I was there with her, watching so that nothing bad could happen to her. But suddenly it disappeared and was completely submerged. I, who was next to me, approached her and tried to get her afloat, but no matter how hard I tried and no matter how hard I pulled, I couldn't get her out. So I yelled for help from my neighbors.
While they were trying to get my daughter out of the water (this did not happen until they turned off the engine 5 minutes later) I remember thinking that every year children drowned in swimming pools died and that that year it was my turn and how I was going to explain it to my family to my husband that the girl had "drowned" in front of me because we couldn't get her out.
That day I couldn't imagine that something like this could happen, even when I was living it, I remember wondering desperately Why can't we peel it off the wall? How is it possible that it has stuck to the wall? I didn't even realize that his arm was inside the pool wall, inside the drain.
Luckily, the neighbors realized and immediately gave the order to turn off the engines, that they were not nearby, that they could not find the key, that the lifeguard fell silent while he was going because he was too nervous.
Finally, the engine died, the arm came out of the wall and they were able to pull my daughter out of the water, a neighbor who had been a lifeguard years before did it. I was paralyzed on the curb watching what was happening in shock until a neighbor came to tell me that she was ALIVE, that she was breathing, we had saved her.
We were very, very, very lucky because I was watching, because someone heard my deaf screams because the voice did not come out of my body, because they ordered to turn off the engine, because there was a lifeguard who knew where the key that opened the toilet was located And what engine did I have to turn off, because there was a neighbor who knew how to do CPR, and because my daughter endured all that time underwater, we don't know how without breathing (there was still some of the diving reflex that babies and young children have) .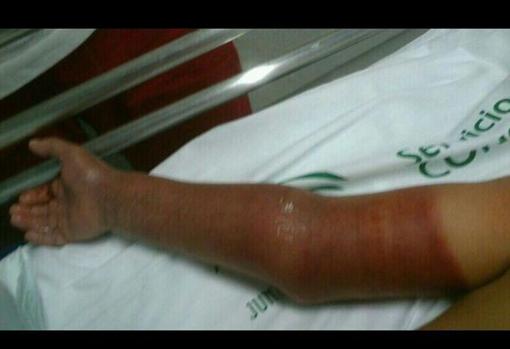 Everything was left in a severe compartment syndrome that had to be operated urgentlyAfter 3 days in the ICU and a week in the ward, she returned home without sequelae and I sunk, it took me many years (psychologist and psychiatrist) to overcome that this had happened to us and that, although the girl was in my charge, she had not been My fault, I did not know that it was like that, otherwise I would never have put her in the water.
Since then, he always checked or asked the pool manager where the pool drain or pool drains are located and before they (I have another daughter) enter the pool, I inspected that all the plugs are in place and there are no drainage sucking.
You have to know how to differentiate the holes that pour water (those are not dangerous) from the holes or drains that "swallow" water., either to empty the pool or to clean in the case of pool sweeper intakes.
My daughter was a champion and I was the luckiest mom in the world. I hope that this testimony, my real testimony, can help other people, because… we were very lucky, but there are other people who have not been able to tell it.
I want to emphasize that this does not only happen to small children, after my daughter's accident a 16-year-old girl died in Marina D'Or for the same reason in a one meter deep pool. So do not trust their age, that they know how to swim or the depth of the pool and please always check because the regulations are quite ambiguous and few inspections are made where this is checked.
Thank you very much, really from my heart, I have tried many times to give voice to this, although it moves me inside and hurts me since it was very traumatic for me, and I have almost never felt heard. So thank you for making it visible and remembering it each year at the beginning of each bathing season.
See them
comments