Updated:
Keep

The sector of Internet gambling was recorded in Spain, in 2020, a gross business margin of 850.78 million euros after billing 21,599.78 million. In the year of the Covid, in the midst of the crisis, this sector increased its turnover by 15%, and 13.7% their gross returns. In this business, in Spain your Gross profit margin -GGR in its acronym in English- is between 3 and 4% of the total invoiced, that is, the total amount of money played. In Spain, the GGR was 2.67% in 2013, in 2017 it was 4.19% and in 2020 it stood at 3.94%, to cite three examples. The GGR is not the profit, but the gross margin of this activity, which comes from subtracting from the collection what is paid in prizes.
The rise of online gambling in 2020 has occurred despite the battle declared by the GI want to limit this activity, a fence deployed by the Ministry of Consumer Affairs led by the communist Alberto Garzón. In view of the balance of 2020, the offensive does not seem to have made a dent in the sector, for now. And 2021 has started along the same lines: the GGR for the first quarter was 240.08 million, 3.8% more compared to the previous quarter and 10.19% compared to the same period in 2020. But the employers warn that this strong annual increase is not such if analyzed in detail.
Turnover grew by 15%, "but in a year, 2020, in which electronic commerce shot up 36% due to Covid restrictions, confinement and the closure of physical establishments," highlights the CEO of the employer association Cejuego, Alejandro Landaluce. Therefore, it underlines that in this context it cannot be said that online gambling has taken off substantially, but that it has done so to a lesser extent than electronic commerce as a whole.
Landaluce says that, unlike the image that the Government intends to convey, the reality is that the internet gambling business in Spain has already entered "a maturing phase", with moderate growth, a prelude to stabilization and even a possible downward correction. It uses the average number of online players as an indicator, which in Spain has been stable for two years at around 580,000.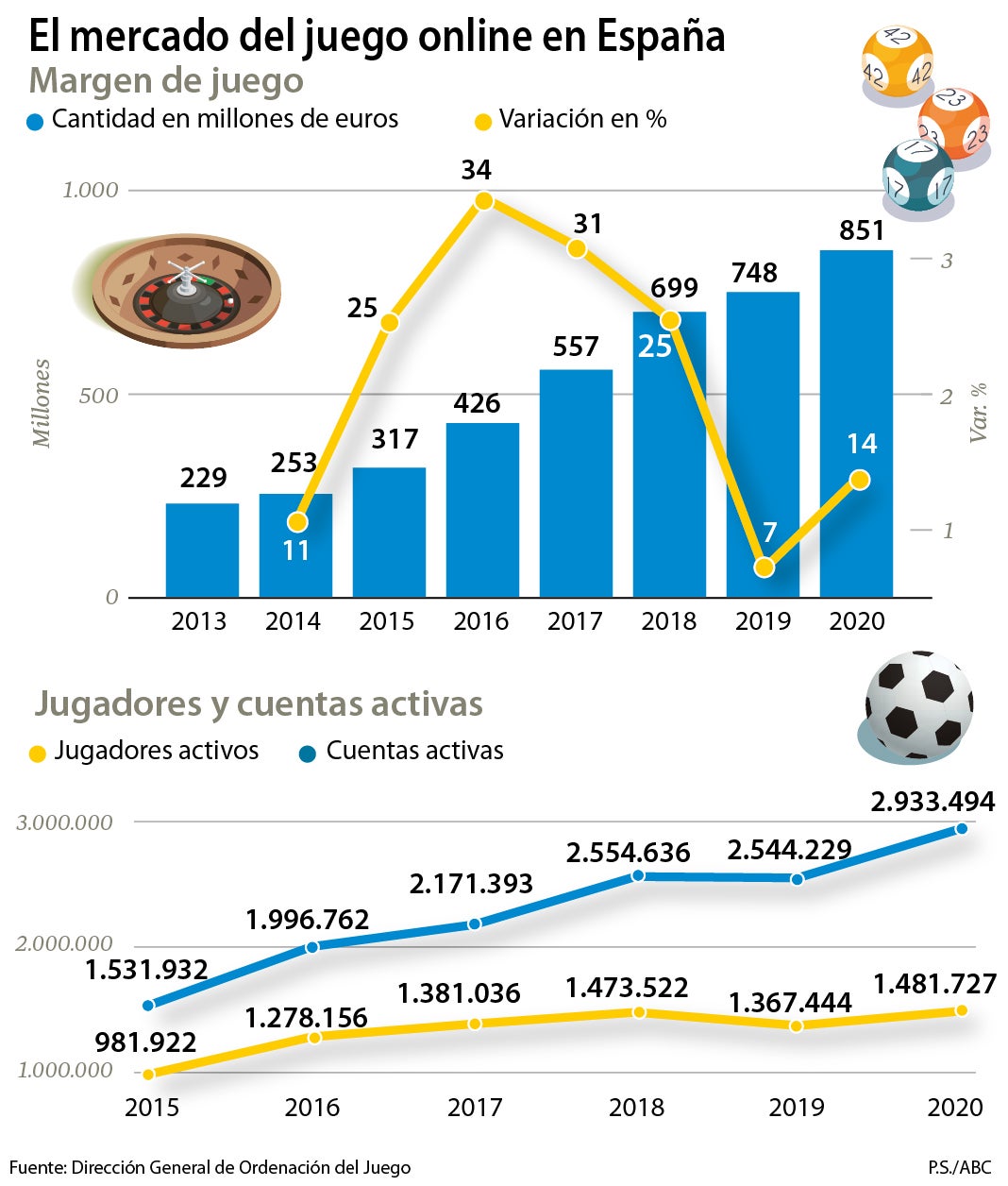 It is an appreciation in which the expert Patricia Manca, Partner in charge of the Entertainment and Media sector in the consulting firm PricewaterhouseCoopers (PwC Spain). "We foresee that the online gambling business volume will stabilize in Spain, because it has entered a significant maturity phase, together with business atomization and regulatory initiatives," he explains.
Tough competition
On Spain there are 80 licensed operators for online gambling. But, of that long list, only 18 or 20 concentrate a significant level of business, explains this specialist from the consulting firm PwC. There is a small group of large operators – most of them international – but small ones abound. And being small in the online gambling business is complicated, because "You work with a very small margin, which requires moving a lot of volume, an economy of scale to be able to stay", indicates Patricia Manca.
"It is a sector in which, if you are small, it is very difficult for you, because you also need a lot of money to invest in technological resources and have financial capacity." For this reason, he predicts that there will be a business concentration in this sector that – he emphasizes – is "perfectly controlled and supervised" by Consumption and the Treasury.
The CEO of the employer association Cejuego also points to the implicit risk in this business activity. Alejandro Landaluce emphasizes that the popular idea that a gaming and betting company always wins is false. «The reality is that very few online gambling companies make a profit, because it is a business in which the margin is small, companies need to move a lot of volume, advertise a lot, give bonuses to encourage people to play on their pages … Large companies, five or six, do have benefits ; but the rest are struggling to have them ", says Landaluce.
Tax and employment
The one that wins insurance is the Treasury. In 2019, for example, online gambling earned the State 804 million euros: 152 million for the gambling tax, plus 652 million for business taxes and contributions to the Social Security of workers, explains the CEO of Cejuego.
The internet segment accounts for 11% of the total billing of private gaming in Spain, which, as a whole, "generates between 47,000 and 50,000 direct jobs." For this reason, Landaluce argues, attacking this business is attacking thousands of workers. Just two weeks ago UGT and the employers of the gaming sector signed a manifesto in defense of the employment generated by this activity.
Landaluce considers that they are suffering a "Disproportionate offensive" by the Government that, for example, it will ban online gaming companies from advertising, "but it does not do the same with state games and lotteries."
The CEO of Cejuego highlights, in defense of his sector, that "there is much more addiction due to compulsive shopping, tobacco or alcohol than gambling; most people gamble responsibly and, of course, we defend any policy that is consistent with safe and responsible gambling, but also the right to work enshrined in the Constitution.
See them
comments