The perfect table to work at home without dying trying
Updated:
Keep

The telecommuting has transformed the living room, kitchen or bedroom into improsive offices, creating multipurpose spaces in which an attempt is made to reconcile family and work life, with less or greater success. And in this new home office, table, with the permission of the chair, it is of special importance, since not only do many hours are spent in it, but also its design and material directly affect comfort and therefore productivity, whether or not to have future discomforts and, of course, in the general style of the room.
According to the study "Teleworking in Spain" carried out by HomeServe, 37 percent of those surveyed consider that the table is one of the most necessary elements to adapt the home for this purpose. Although in principle anyone is valid to fulfill the desktop functions, there are issues to attend to choose the best option for each one.
1. Measures to take into account when choosing a table
In order to be able to sit comfortably at it, a table must have about 65-75 centimeters tall and have a free space underneath about 70 centimeters wide, so that the legs can fit comfortably and can be moved.
In addition, it is important to look at the table extension that is needed, in a way that avoids the accumulation of papers and objects, in order to maintain an order that contributes to that of the whole house and, incidentally, increases efficiency. Obviously, if you work with a laptop, it will not be necessary for the surface to be XL, a depth of 40-50 centimeters is enough, while folders, notebooks or books are usually used due to occupation, it is necessary that the tabletop has room for place it and dispose of them.
2. A model, a necessity
There are models that fit in any corner and others that need a room to themselves. There are tables run where you can share space with your partner or student children, as long as each one is delimited with a shelf or some type of separator.
There are also a variety of folding consoles that hide when not in use, "telework stations" that have everything, notary-style desks with several drawers, tables attached to the wall (very practical if you do not have a room for an office and you have to place it in a corner of the living room or kitchen), a secretary that is reinvented as a desk and can be closed when the working day is over to integrate with the rest of the decoration, custom shelves that allow you to take advantage of or tables with built-in shelves
3. Always in style
One idea to make the telework space friendlier is to banish the idea of ​​gray and nondescript offices and play with the decorative trick that desk tables provide.
Among the wide variety of designs, you can bet on models in wood, easy to integrate both in modern and classic decorations; in iron, for an industrial look; in color White for Nordic interiors; with air vintage for retro environments; or from cristal, if you bet on the minimalist style and visually you want to subtract elements from the set.
4. With or without drawers?
Choose a model with drawers or without them depends on two variants. On the one hand, of the amount of papers and things that are used in the professional activity, and, on the other, of the distribution of the space: if there is a bookstore nearby, if shelves have been placed on the table or if it has been enabled an area of ​​the wardrobe, for example, to place everything that is part of the working day.
Models with drawers on the sides or under the envelope they are a good option for easy storage and collection.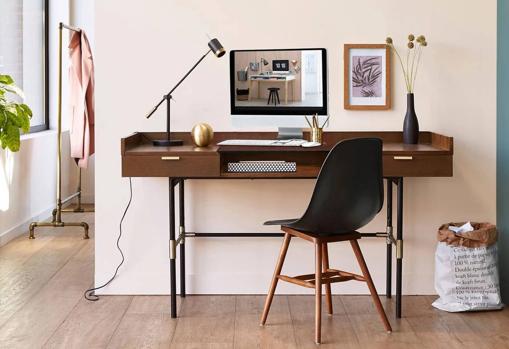 5. That favors a good work environment
In order to work and be efficient, it is necessary to create a pleasant and personal environment, in which the user is comfortable, with good natural light, objects that make him feel good and with the green touch of a plant.
Of course, if it is a shared or multipurpose space, such as the living room, it is necessary to establish visual limits between both areas through paint, a carpet or the back of a bookcase. And, whenever possible, it is convenient to have a small relaxation or reading corner nearby, where you can rest in the middle of the telework day without lying on the sofa or bed.
See them
comments