Updated:
Keep

Even if trends they are a crucial point in fashion, they are not everything. It is of little use to know exactly what one wears if one does not then have a realistic vision of one's own figure that serves to find the looks that best suit it. In fact, learn to get the most out of clothing goes beyond correctly choosing a pattern or color, success lies more in knowing exactly what size you have, and, as surprising as it may seem, a high percentage of women admit not knowing exactly what theirs is , with the headaches that this entails when buying clothes and how bad it looks if it is not adjusted to the body.
To begin with, the experts point out that in a good dressing room, finding the balance between the basics and the latest innovations is key, for which the most appropriate proportion of 70 and 30% respectively, which also leaves a wide range of possibilities so that, even if you have similar clothes, the outfits can look completely different.
Hair color, a point to consider
It is also a good idea to open your mind and learn to see what you already have in your wardrobe with different eyes, especially accessories, because to look impeccable, the key will then reside in the grace you have when implementing them in your styling. a natural and balanced way. Another point to keep in mind to make a good impression with what you wear is hair color, where there are several tips that never fail.
For the blondes, peaches, roses, salmon, banana, mint and the whole range of pastels will be good allies, just like gray ones. The black and white mix in all its intensities is also very successful. The chestnuts and with black hair instead they should opt for tones that contrast with their hair color. If you have light skin and eyes, pastels centered on light blues and beiges are perfect for enhancing features; while if you are darker, the range of tans, bronzes and earth is more suitable. They also favor burgundy, khaki and midnight blue. In the case of redheads, browns, caramels and golds are particularly suitable, as are beige, ivory, gold and olive.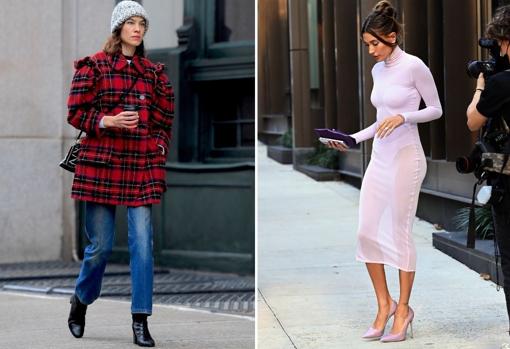 The shape of the silhouette, another key factor
In order to clear up doubts, we have consulted some of the most prestigious stylists in the sector, who have shared their infallible tips. Jesús Reyes, image consultant and CEO of CoolHunting Madrid Communication The first thing to think about when selecting a garment is to try it on without fear.
«Clothes must be tried on, confirm that they fit us well, we look comfortable with what we are wearing and, above all, that we wear that design, not the design on us. It is the golden rule, above that it may be a design that we like very much, that it is a super trend or that it is signed by our favorite designer. In digital portals, books or better yet, in the hands of professional image consultants, we can carry out a study of morphology and color to find out what shapes and tones are the ones that favor us. In Spain, for example and referring to colorimetry, a high percentage of Spaniards belong to the winter group: dark hair + white skin; so we will resort to wearing cold and intense tones (night blue, 'blood red sky', pure white, bottle green…)».
It also provides information about the body types and cuts that favor the most.
– Column bodies: recommends betting on long and tight dresses, pants that enhance the length of the legs with flared cuts and high waists and as far as the tops are concerned, it dares to give a lot of freedom.
– Hourglass bodies: dresses fitted at the waist; pants that shape the waist, "it is important to highlight this part of the body to enhance the hourglass effect". Short jackets, above the waist, never below, and as for shirts, it is advisable to wear them tucked into pants or skirts.
– Oval bodies: commitment to dresses with an empire or Hellenic cut; palazzo pants or elephant leg. Short jackets or jackets that do not add more volume to the silhouette and it is recommended to avoid all kinds of prints. As for shirts, he also advocates dispensing with prints, especially horizontal stripes, and in this case with footwear he also dares to totally discourage ankle-length boots as they shorten the figure.
– Triangle bodies: dresses with some volume at the top to balance the hips; Bell trousers; jackets always with shoulder pads or that add volume on top; printed shirts and stilettos.
– Inverted triangle bodies: Finally, in the case of this type of silhouette, it invites you to opt for dresses with volume at the bottom, A-line skirts, with a lot of flight. With the pants, he focuses on voluminous models at the bottom, such as palazzo, elephant or patterned ones. Jackets, better designs without volume, like shirts, and in the case of footwear, they also opt for stilettos.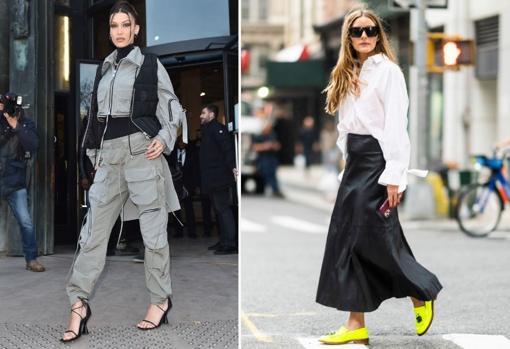 Other factors that never fail
On the other hand, when seeking to stylize the beautician Benedetta Perazzo She adds other rules that, in her opinion, every woman should apply to her outfits, not only to improve her figure, but to feel better about herself. These are their recommendations:
"It is crucial to respect the proportions and know if you have an hourglass, triangular or straight body. If you want to add a few centimeters without effort, I recommend using darker tones, which always make you thinner. In addition to the classic black, in the coming months navy blue, magenta and olive green will be very recurrent", he explains and adds that from his point of view with jeans, he recommends avoiding skinny jeans and opting for a straighter cut. He also insists on leaving aside the 'wide leg', very popular lately, since it widens the figure.
also remember be careful with proportions and fabrics, because the thick ones will add volume, so it would be more accurate to bet on the fluid ones and with fall. Finally, she advises learning to play with accessories and opting for large ones, such as XXL bags that will make the silhouette look smaller.
Sportswear, those great forgotten
We must not stop paying attention to sportswear either, where it is essential to know how to choose both fabrics and sizes judiciously. The Dra. Joanna Wakefield-Scurr, a professor at the University of Portmouth and a key player in the firm Under Armor to create their designs, has told ABC Style that in the case of women, it is worth emphasizing especially the chosen bras.
He advocates having several in the closet of different types depending on the routine that is going to be carried out and that they would have to be changed every one or two years (something similar to what happens with sneakers). He also recommends betting on models made with elastic fabrics in 4 directions that allow greater mobility, in this way, in addition to greater comfort, the shirts will look more flattering.
See them
comments