Updated:
Keep

The Great Chicago Fire In 1871 it devoured the lives of some 300 people, destroyed around 9 km2 of buildings and infrastructure and left more than 100,000 people homeless. From then on, Chicago was reborn from those ashes with a well-known strength, until today it becomes one of the most thriving cities from an economic point of view and the most interesting for its architecture.
In those first years after the fire the Rookery Building (1888, Frank Lloyd Wright), el Auditorium Building (1889, Louis Sullivan) and the Monadnock Building (1893, Burnham & Root, Holabird & Roche). Tres obras maestras.
But in the visual memory of all is the most modern Chicago of the last decades, full of towers, business buildings and viewpoints of those that are usually described as 'vertigo'. Among other references, the Willis Tower, built in 1973, with 110 floors, with a height of 440 meters (527 if the antennas are taken into account). For 25 years it was the tallest building in the world. In this symbol of the city, a viewpoint with glazed balconies was inaugurated in 2019 (The Ledge at the Skydeck) located on the 103rd floor, the highest observation deck in the United States, with a height of around 412 meters.
Starting in 2017, that viewpoint began an extensive renovation by Skidmore, Owings & Merrill (SOM) – the same company that was commissioned to build the skyscraper – which has just been completed and reopened to the public.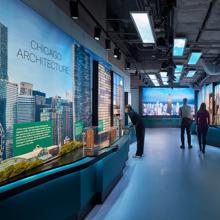 Upon entering, visitors pass an interactive exhibition exploring how architecture has shaped Chicago's history and identity, with bronze models of the most influential buildings in the city. Then comes an elevator ride up to the 103rd floor, toward the transformed observation deck. Changes to the interior, new lighting, and improvements in building technology allow greatly expanded views of the city, while new interactive displays encourage visitors to learn more about Chicago's historic architecture.
"In creating the new Skydeck, we wanted to honor the structural clarity and simplicity of the tower's original design approach," explains Scott Duncan, Design Partner at SOM. "We wanted to create a calm backdrop for people to fully immerse themselves in the city skyline and allow the view to speak for itself."
See them
comments