This is the new largest store in the world dedicated to Harry Potter
Updated:
Keep

It was a stamp from other times, like before the pandemic. On June 3, at 935 Broadway, in the Flatiron District, hundreds of fans of the hogwarts universe, with the corresponding costumes, to attend the inauguration of the largest and most spectacular Harry Potter shop in the world, packed with products related to the little wizard born from JK Rowling's imagination.
That day it was raining on New York, but it was just a small setback for the official presentation of this great flagship of the franchise in the United States, and, without a doubt, a new essential place in the world. tourist agenda. All of them will lose their eyes in a three-story, 1,800-square-meter enclosure full of magic wands, capes, cosmetics, toys … And so on up to a thousand accessories from the Wizarding World, many of them present in the movies .
At the entrance there is a huge statue of the ave fénix Fawkes, who helped Harry Potter so much. And, from there, fans of the character, of his books or his films, will be able to immerse themselves in an unreal reality, in a fantasy that mixes pure and simple merchandising with the detail that we could find in a theme park.
There are snacks that in theory could only be eaten at the Diagon Alley -a magical cobbled alley in London-, like Honeydukes chocolate frogs, Bertie Bott's beans of all flavors and butterbeer, his drink of choice.
Aspiring witches and wizards (in the early days, many of them have come to the store in disguise) will also be able to visit an area inspired by Honeydukes, the candy store located in Hogsmeade. Or explore over 50 wands inspired by Wizarding World characters, locations, and accessories, included.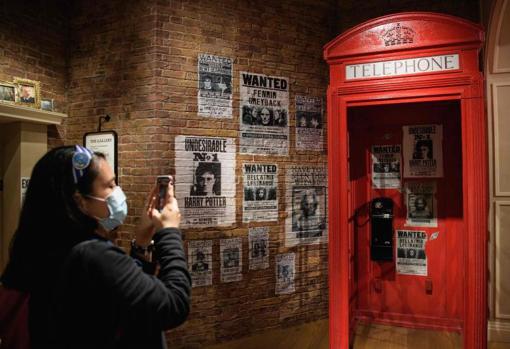 In the store there is a personalization area where you can engrave a wand, a diary or embroider a tunic with your name. And another corner where to pose with a griffin, a large mythological creature, or in the telephone booth of the Ministry of Magic. Images all of them that fly these days on Instagram and other social networks.
In the store there are also products and decorations related to 'Fantastic Animals', by JK Rowling.
See them
comments