1. 1. Trends

The variety of designs and prices allows an almost tailor-made choice. There are XS or XL models; standing or tabletop; square, round, rectangular or irregularly shaped to provide a plus of style; window type with panels, a timeless and very chic design; without a frame so as not to subtract centimeters and go unnoticed or with a metallic gold frame to give the room a charming retro air. This sun and natural fiber model (€169 at La Redoute Interieurs) is perfect for boho environments, to give an exotic touch to a classic interior or add warmth to a contemporary space.
2. 2. The way to hang them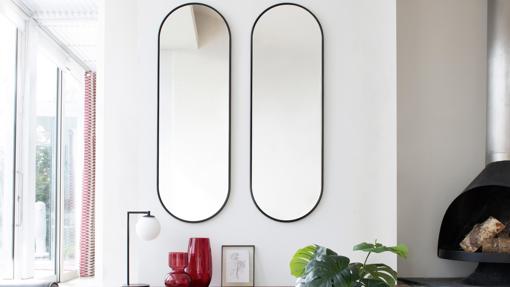 The mirror must be proportional to the wall or the piece of furniture where it is located, like these from Next. As a general rule, it should be two thirds smaller than the piece on which it is hung or supported, although many times this rule is broken if a greater effect is sought. Depending on their size, they can go alone or create compositions as if they were paintings. Of course, they should always go on the same wall, so as not to create visual clutter, unless they are placed opposite each other to create a sense of depth. It is important to place them so that they do not reflect things that should not be shown, such as the toilet, or that they do not want to show (the unmade bed) but rather beautiful views or a light source.
3. 3. Standing

The standing ones are basic pieces in dressing rooms, bedrooms and halls. They facilitate the task of dressing and allow you to check the 'outfit' before leaving the house, so they must be high enough not to 'cut' any part of the body. They can be hung, although it is increasingly common to find mirrors resting on the floor, a more informal way of incorporating them into the room that avoids drilling holes in the wall and allows them to be moved to other places in the house. These from Zara Home are worth 99.99 euros each.
4. 4. As a central element

Depending on where it is located and how it is dressed, it can go from a decorative accessory to a main piece. They are the perfect option to enhance the wall of the sofa or the fireplace area, since, in addition to providing light and a feeling of spaciousness, they provide extra warmth and complete any decoration without being visually heavy. "Depending on the style of the room, a more or less ornate frame should be chosen, in colors that match the furniture or in contrast, but always trying to create a harmonious whole," they point out from Knowhaus.
5. 5. In the bathroom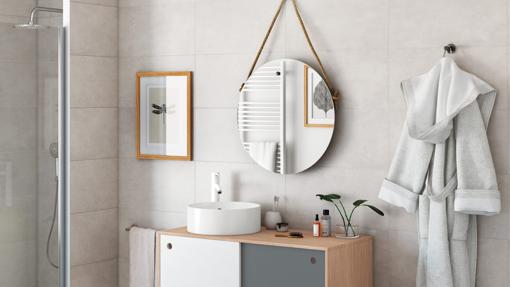 They are as essential as the toilets and the shower. It has to be practical and make tasks such as applying make-up, putting on contact lenses or shaving easier, but it must also be integrated into the bathroom decoration. When hanging it, keep in mind that it must reflect the upper part of the torso and head (maximum 35 cm from the sink) and, although its size must be proportional to the dimensions of the space, an XL mirror can accommodate in an XS bathroom, but not the other way around. The bathroom mirror has a plus compared to those in the rest of the house, it can incorporate more functions and include a shelf, magnifying mirror, anti-fog, lights, backlit… In addition, the market offers a wide variety of models in different shapes, the round vintage ones, like this one from Leroy Merlin (€35.99) are on trend.
6. 6. In halls and corridors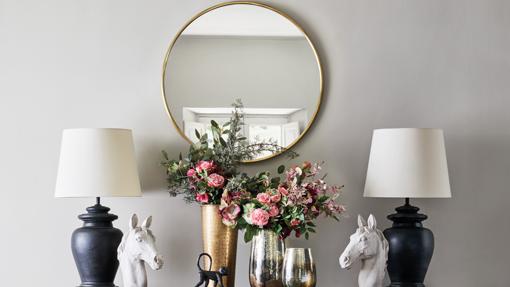 Passageways are usually narrow, dark or a few meters long, so a mirror will solve these issues at once, providing light and spaciousness with its mere presence. When choosing the hall mirror, you have to take into account both the dimensions of the space and personal tastes, so that it is neither too big nor too soulless. Depending on the effect you want to achieve, it can be hung centered on the wall as in this proposal from El Corte Inglés (from €79.95) and achieve an orderly and elegant effect or place it on the floor or on the console or piece of furniture and achieve a more informal air. While in the corridors, its power allows you to play with depth, depending on where it is located.