Updated:
Keep

Sustainability in fashion affects all processes in the production chain and at all levels of the company. In production, it promotes commitment to the environment by betting on 100% natural fabrics made from plant-based fibers, such as kapok, hemp, cottony hemp, jute, organic linen, or Tecel; fibers of animal origin, such as lana merina, and artificial fibers such as recycled polyester or as the so-called SEAQUAL (recycled polyester from plastics from the sea), among others.
In addition to the natural or recycled origin of the fabric, the keys to current sustainable fashion demand certified fibers, innovation also in eco materials and more biodegradable fibers.
Certification
The certification endorses and allows the garment traceability: where it has been produced, under what conditions and what carbon footprint it has generated.
The designer Maria Lafuente is a pioneer in sustainable fashion in Spain, with the first women's collection made with recycled fabrics from plastic bottles and fishing nets, the first dress with potato starch, the first carbon fiber dress, the first dress and accessories with cane honey or, among other innovations, the first collection with certified forest fibers PEFC (Program for the Endorsement of Forest Certification) with Textil Santanderina. Lafuente is clear that «one thing is certification and another is sustainability, that's why when you have an authentic character you do have certifications ».
In many cases, only the percentage of recycled material or fabric that a garment has is indicated, but it does not carry certification. The designer Juan Vidal he notes that this seems to him "a bit of a trick. There is a lot of cheating in the sector, which is why certificates are so important, because they give the key that something respects the environment. It is transparency in the world of weaving.
Innovation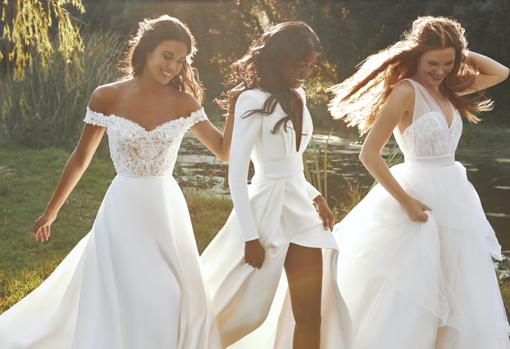 Innovation is essential both to recycle materials and fabrics and thus give them a second life. Ecoalf is undoubtedly a benchmark of the so-called 'trashion-fashion', made from waste, with high-quality designs of fishing nets, plastic bottles (it has already recycled more than 200 million bottles), wheels and coffee grounds .
Zalando, the German online fashion giant in Europe, and a member of the Sustainable Apparel Coalition, has a global sustainability strategy called do.MORE that affects all levels of the company. Its sustainable label includes garments made with innovative recycled materials from waste pineapple leaves, coffee grounds, or fish scales with at least 20% biodegradable materials.
And even bridal fashion is sustainable. A few months ago the Pronovias Group launched its first #WeDoEco collection with sustainable 360º designs. The designs made in crepe, satin and mikadowith ecological certificate they also use eco-certified materials, What embroidery and rhinestones, made from 100% recycled glass, or zippers made with recycled PET bottles, with GRS (Global Recycled Standard), FSC (Forest Stewardship Council) and OEKO-TEX certifications, and sustainable packaging with liquid wood hangers, 100% recycled woven labels, 100% recycled paper hang tags and organic cotton sleeves.
Biodegradable fibers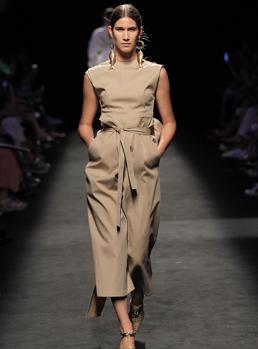 The Woolmark Company, something like the world's greatest authority on wool, challenges young designers every year to create sports fashion pieces made from Australian merino wool, as an alternative to the use of artificial fibers such as polyester, common in these garments. There is great ignorance about the thermoregulatory, absorbent and breathable properties of this natural fabric, wool, 100% biodegradable. Finer than human hair and suitable for the most sensitive skin, it uses 18% less energy than polyester and almost 70% less water than cotton to produce 100 sweaters.
In this year's edition, the students of the Madrid Higher Fashion Design Center (CSDMM) of the Polytechnic University are the only Spanish competing. Héctor Navarro, professor and director of the project, points out that "initiatives such as the Woolmark Performance Challenge encourage emerging designers to develop their proposals from a more sustainable perspective and to continue implementing fabrics present throughout our history in fashion."
The designer and professor at CSDMM Juan Vidal, who has directed the first capsule collection of future design promises available on the Wallapop platform inspired by innovation, sustainability and reuse of garments, assures that "there is no future without biodegradable fibers. The new polyester, which is not recycled but is biodegradable, comes from sugar cane. Not everyone has to be dressed in jute or hemp, you have to continue using the fibers but otherwise, in a sustainable way, this is the new thing.
See them
comments