Updated:
Keep

If the week started with an eccentric and striking MTV VMA's red carpet, New York would unfold the carpet again a day later to welcome guests to the Met Gala 2021, one of the most anticipated fashion world gatherings of the year. And many of the guests returned to dress up to attend the event, this time also commemorating the 75th anniversary of the Costume Institute of the MET museum in New York.
The singer paid tribute to Marilyn Monroe with a spectacular design of Oscar de la Renta, thus fulfilling one of his dreams, as confirmed to the media. Wrapped in flowing tulle and chiffon nude color, with a tight corset with a 'bardot' neckline leaving her shoulders exposed and a skirt with a train of almost five meters, the Californian appeared on the carpet taking out her most sensual side. A design that would be inspired by the tulle dress that Marilyn wore to the Oscars in 1951. "A risky bet for her," as Fernando García, creative director of the firm, told the media. And it is that Billie Eilish usually opts for other types of outfits, jacket suits, sets, black … very far from the last look with which she has surprised. "Billie really wanted to surprise everyone with a look that she had never shown before"explained the stylist.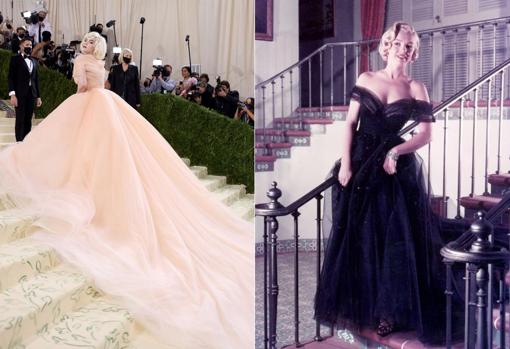 And it is that his styling did not lack detail. Her bob cut with waves in platinum blonde, usually known as 'Marilyn cut', a makeup with marked eyes, some blush and burgundy lips, have completed her 'look beautu'. While in accessory, nothing more and nothing less than 30 pieces signed by Cartierincluding 25 rings, complemented the fabulous dress to perfection. Without a doubt, the most jewelry that anyone has ever worn on a red carpet before.
A dress and a vindication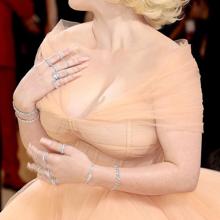 Her evening dress also has a vindictive message: that of the end of the use of fur in the fashion industry. Although Alex Bolen, CEO of Oscar de la Renta, had received several requests from artists and fashion experts not to continue with this practice, she was reluctant to change because of the love that Oscar had for this fabric, until Eilish, a vegan and activist for animal rights, did ring your phone this summer.
«When the team of Billie told me that she would not work with any firm that was not 'cruelty free' I realized that it was a good time to stop and reflect. I thought a lot about Oscar's words. His biggest concern was that his outlook on the business would age, "Bolen explained in an interview for Vogue.
«Thank you for designing this BEAUTIFUL dress and bringing my ideas to life. It was an honor to wear this dress knowing that in the future Oscar de la Renta will be completely fur-free. […] I am proud that the team listened to me and they have made a change that has an impact for the common good, not only for animals but also for our planet and the environment, "Billie Eilish herself posted on Instagram.
See them
comments