Updated:
save

Here is a new elevated walkway in nature, between trees. When it opens – in the summer of 2021, if the pandemic allows it – this will be the longest walk among the canopies in the world: 1.5 kilometers between the towns of Laax Murschetg and Laax Dorf (Laax, canton of Grisons, Switzerland).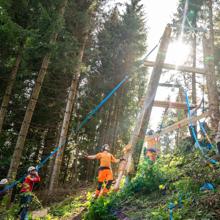 The main entrance is at Laax Murschetg. Visitors will have to climb to a platform located 28 meters above the ground using a circular staircase or an elevator. It has also been installed there -and this is perhaps even more novel- a 73 meter long spiral slide, designed especially for the little ones.
On this platform the walk in height begins (oscillates between 2 and 28 meters above the ground), staring into the trees, with a fresh perspective of the forest. Along the 1.5-kilometer-long route there are four platforms with the opportunity to sit down and enjoy the surroundings in time and calm, or learn more about the regional flora and fauna, geology and agriculture.
Until now, the longest path of these characteristics on the planet was that of Sungai Sedim Recreational Park (near the city of Kulim, Malaysia), which measures about 925 meters, with a height of 26 meters above the ground at its highest point. It took 14 months to build and was completed in March 2005.
See them
comments